Join The Discussion
Learn about life on three legs in the forums below. Browse and search as a guest or register for free to take advantage of member benefits:
Instant post approval.
Private messages to members.
Subscribe to favorite topics.
Join the Live Chat and more!
The Tripawds Library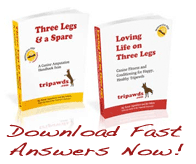 Download Tripawds e-books for fast answers to common canine recovery and care questions!
A
A
A
How are you and Penny doing? Hope all is going ok.
❣️❤️❣️
Hugs,
Jackie, David, Mitchell, Andy Oscar, and the coolest feral tripawd kitty Huckleberry

All ok. Had lots going on with a foot injury and my little girls birthday. 
Penny is doing ok. Ive noticed that she tends to walk a lot, although not always, with her back end a little lower rather than with her back in a straight line.
Her and tiger are spending a fair amount of time not getting on. From what I've seen, he's just playing the way they always have, but I don't think she can handle it as well. She ends up crying out and hissing a lot.
I'm guessing both of these are due to her being uncomfortable with her back leg, as they both started within the last couple of weeks. In the first month or so after the amputation this didn't happen, only since the back leg seems to be playing up 
Well I can say that while walking Huckleberry is the same. His back end always is lower than it was. When he's running you'd never know he even had just three legs. He's still quick and pretty agile if he's doing something that requires speed.
He and Oscar have been having troubles also but I had stopped using the feliway thinking it was not necessary. Under normal circumstances I think that would be correct but the way Oscar acts had been off the wall. Very territorial, very jealous. He's even beating Andy up. I started using the feliway spray again and added a second diffuser and placed them where the cats frequent often. The difference in just a few days is amazing. I don't know if it will help you but it sure has calmed the crew down ❤️
I sure hope you're feeling better soon. 
Hugs,
Jackie and Huck

Hugs,
Jackie, David, Mitchell, Andy Oscar, and the coolest feral tripawd kitty Huckleberry

We have a plug in too. Always have one as penny struggles with stress and anxiety x
Awww.. that's tough stuff
   When she gives Tiger the stop signal is he listening? Hopefully he is and he is just going to have to learn when to leave her alone for now.  I hope things get easier.
I don't know much about these things with cats, but is there some sort of soft brace that might add stability for her? I am just throwing it out there as an idea. It would be nice if they made something smaller scale and softer for a cat that would not hinder too much but might stop her leg from falling out. Might be worth asking her doc if you have not already? 
Hugs,
Jackie and Huck

Hugs,
Jackie, David, Mitchell, Andy Oscar, and the coolest feral tripawd kitty Huckleberry

Mostly he does, although sometimes he has to be told by us too. Sometimes he leaves her alone for a few minutes then starts again, but I'm fairly sure he doesn't mean to be nasty. They've always chased and played with each other without a problem until now.
I will look into it and speak to the vets next time too. 
Added a couple of new pics to my blog but can't remember how to add them to here 😂

Here and Now

Forum Posts: 11458
Member Since:
25 April 2007

Offline
Ju said
Added a couple of new pics to my blog but can't remember how to add them to here…
Here are detailed instructions for adding photos to forum posts .
Hint: Copy the image URL from your Media Library, and paste it into your forum post.
Need further assistance? Post in the Tech Support forum and we'll be happy to help!
Just to let u all know that Penny crossed rainbow bridge this morning. I will miss her massively but it was the best thing to do
I am so very sorry. I know she had a lot of problems but that will not make it hurt any less. I know this is really hard for you. Sending you big hugs, I wish you comfort in such a sad time. I know you loved Penny so much.
Jackie and Huckleberry 

Hugs,
Jackie, David, Mitchell, Andy Oscar, and the coolest feral tripawd kitty Huckleberry


Virginia


Forum Posts: 16472
Member Since:
22 February 2013

Offline
We are all so very, very sorry ro hear this.   We know the hearbreak all to well..  
No kitty could have been loved more.  You took jer from a rabbit cage i to yoir home and heart.  She clearly  won the kitty lottery ❤
You have ALWAYS done everything  possible  for your belpved Penny, and today was no different.  She had a lot of unforseen  issues that you had no control  over. But one thing for certain, YOU GAVE HER LOVE AND HAPPINESS  ON A LEVEL SHE NEVER WOULD HAVE KNOWN WERE IT NOT FOR YOU!  You loved her enough to  release  her out of her failed  earth clothes so she xould be free to be Penny  again.  
I always loved looking  at her adoravle photos.  I do hope you'll share more when you can.
Stay connected  and lean on us, okay?  Soon the happy  times will help push your grief  further and further away.  We're  all surrounding  you worh our love.  And we thank you for the privilege  of getting  5o k ow this very special  kitty❤
Love
Sally and Alumni Happy Hannah and Merry Myrtle and Frankie too! 
Happy Hannah had a glorious additional bonus time of over one yr & two months after amp for osteo! She made me laugh everyday! Joined April's Angels after send off meal of steak, ice cream, M&Ms & deer poop!

Michigan

Forum Posts: 1618
Member Since:
11 July 2016

Offline
We are so sorry to read this! You gave her the best shot at life hold onto that! She was loved and cared for, and the ultimate in love is that decision we have to make to end suffering. Your concern at one time was you would not know when it was time. You knew, and we are so sorry it was so soon.
Watch for signs. You will feel Penny come up on your bed again. She will visit and let you know she is ok.
Run free Penny Whistle your whole now running on four again.
Sending hugs across the miles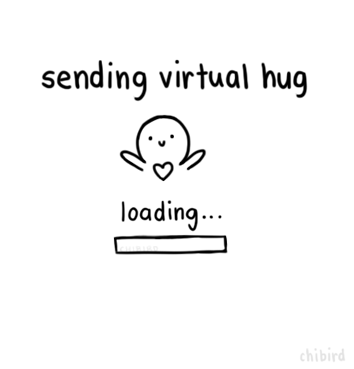 Holly, Purrkins & Saxton❤️❤️❤️❤️

The Rainbow Bridge

Forum Posts: 23923
Member Since:
25 April 2007

Offline
Ohhh I'm so sorry. You absolutely gave her all the love and kindness any kitty could dream of. No doubt it's hard to cope with saying goodbye, but know that you did right by your girl, you didn't let her suffer and she went with the grace and dignity she deserved.
And her story? Well that will never be forgotten and always a part of the fabric of this community. Thank you for allowing us to join you on the journey. We are forever grateful.
Sending many hugs and condolences to you from across the miles…
Forum Timezone:
America/Denver
Member Stats:
Guest Posters: 1005
Members: 12749
Moderators: 2
Admins: 3
Forum Stats:
Groups: 4
Forums: 23
Topics: 15021
Posts: 211486