Join The Discussion
Learn about life on three legs in the forums below. Browse and search as a guest or register for free to take advantage of member benefits:
Instant post approval.
Private messages to members.
Subscribe to favorite topics.
Join the Live Chat and more!
Best Support Harnesses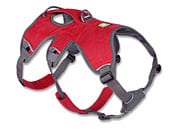 Visit the Gear Shop for the best harnesses and helpful products for Tripawds!
A
A
A



11 Year Old Pittie just diagnosised with mast cell tumor grade 2 probable amputation needed...

Add Reply

Add Topic
Hello Folks,
My sisters and I have an 11 year old Pitbull mix who's diagnosis just returned following a biopsy as mast cell tumor stage 2.  Prior to this massive (it's huge, the size of an small pear on her front paw) tumor she was running, hiking, jumping with not problems just five weeks ago.  We have an appt. with an oncologist on Jan. 2nd which seems to far away but I'm working on getting a sooner appt.  My question… has anyone's puppy/doggie had the same type of cancer?  Did anyone have their pup's leg amputated so late in life?  Any suggestions or comments would be greatly appreciated.  Since the biopsy on Wednesday the biopsy site has not stopped bleeding and the tumor is oozing blood and clear liquid since Monday prior to the biopsy.  We can't decide what to do.  At this point we are just hoping that the cancer hasn't spread yet.  It honestly ballooned up in about five weeks. 

Sorry this a double post, but I just registered and didn't know what I was doing. 
-Marta

Here and Now

Forum Posts: 11262
Member Since:
25 April 2007

Offline
No need to apologize! We deleted your first duplicate post, and your future forum posts will not require moderation.
Search these forums and the blogs and you will find plenty of success stories from senior tripawds, and treatment plans from other members with dogs who've survived with mast cell tumors.

krun15
Hi Marta, welcome to tripawds.
I'm sorry you are dealing with mast cell cancer.  I have unfortunately had lots of experience with mast cell.  There are a few people here who also have dealt with it- Roxy is a long time front amp boxer survivor, and my pug Maggie lived almost 4 years after her amp.  Cadence- who just had her amp due to OSA has also battled mast cell.  Angel Rio fought for 4 years- including a year as a front amp.
I have a feeling that that paw may not heal after the biopsy- one problem with mast cell cancer is that the skin around the tumor won't heal.  And the swelling up so fast isn't uncommon.  My quad pug Tani has several mast cell tumors- sometimes I can find them, other times I can't.  Maggie's tumor was in her knee- and not removable with margins so we did the amp.  She was 7.5 a the time of her amp so I can't speak to the age.  But really it is not necessarily the years as much as how your girl is doing otherwise.  Is she pretty healthy?  Are the rest of her legs and back OK? Does your vet think she is a good candidate?  We have had several pups here who have had amps at 11 years old, or older.
I have to run for now- do you have any specific questions?
Karen and the pugapalooza

concord,ca
Forum Posts: 200
Member Since:
18 October 2012

Offline
Hi Marta,
I responded to your questions on my Cadence update post but I saw this here and figured you would be more likely to see it here.  Cadence is an American Bulldog so she is a bully breed.  She will be 8 years old on Christmas day.  Like Karen said has had bouts with mass cell tumors.  Five of them to be exact.  The first one we found was small at first so we thought it was nothing.  Over the next several weeks it got bigger and we took her to the vet.  After that incident I was checking her almost daily just in case.  Thankfully the others were caught quickly but they still had to be removed with surgery.  All the mass cell tumors were on her left side.  She was diagnosed with osteo in October and we had her left rear leg amputated a few weeks later after the diagnosis.  She is now on chemo.  It just hit me a few weeks ago about the mass cell tumors being on the left side of her body and her having her rear left leg removed.  I'm not sure if it is just coincidence or not.
Ive read several posts on dogs that were older when they got their amputation. I know that older dogs sometimes take a bit longer with the recovery period.  Cadence was 95 lbs at the time of her surgery and I think at 8 years old she is considered senior.  We were fortunate that she did really well with her recovery.  There were some ups and downs but she bounced back and now is back to her old self. 
 I think it depends on if your baby has any other health problems.   Have they taken an x-ray yet?  They will be able to tell with an x-ray if has spread to the lungs.   I know this is alot for you to take in.  My head was swirling with a million questions.  Everyone here is wonderful and is very willing to share their experience and give advice.  Do not be afraid to ask questions.  Please let me know how things are going and what you decide to do.
Michele
"Dogs are our link to paradise. They don't know evil or jealousy or discontent. To sit with a dog on a hillside on a glorious afternoon is to be back in Eden, where doing nothing was not boring--it was peace." ― Milan Kundera
Hi Everyone,
Thank you so much for all of your responses.  We haven't ran blood work yet but will do so as soon as we can.  X-rays of her lungs revealed no tumors or dark spots and these where taken on Wednesday.  We think the bleeding is slowing so we are very very excited about that (hopefully it's not an illusion)  She did very well on her walk today.  Rolled around in the snow (it looked like a murder scene afterwards cause she wiped a lot off blood off of her.)  She also tried running after a rabbit which lucky I stopped.  In other words she seems to be acting very well.  Hopefully everything will go well with our next visit. 
In answer to some of the questions... she is a pretty healthy puppy.  Very active, healthy eating habits, not over weight.  She had prior problems with the same paw as where the tumor is however the swelling would always go down in the past andi it never swelled to the same size as now.  She has an ACL repair when she was two years old.  Tore the other ACL when she was four that one healed on its own.  Rest of the back and legs are strong.  I think the next appt. will focus on blood work and maybe an ultrasound with more x-rays.  

My heart lives at Rainbow Bridge
Forum Posts: 3754
Member Since:
28 November 2008

Offline
Don't be afraid to talk with the oncology vet about all the past surgeries and get their opinion on whether or not your pup is a good candidate for amputation.  Keep in mind vets deal in statistics, dogs don't. Statistics for survival with Trouble's diagnosis following amputation and chemo was 12-14 months.  She lived very well for 27 1/2 months and had it not been for the arthritis, I am sure she would have had a longer life. The point here is don't get bogged down in the statistics.  They are only numbers and each dog is individual.
Duke had an ACL repair this year and if I am not mistaken, I was told his leg would be stronger than ever once healed. Assuming that is true, (and I would ask when you have your consult) you should have minimal concern about the back legs.
Sending you good thoughts as you prepare for the consult.
Shanna & Spirit Trouble ~ Trouble gained her wings 3/16/2011, a 27 1/2 month cancer survivor, tail wagging. RIP sweetheart, you are my heart and soul.  Run free at Rainbow Bridge.
The November Five - Spirits Max, Cherry, Tika, Trouble & Nova. 11/2008 - 3/2013 An era ends as Queen Nova crossed the Bridge.


San Diego, CA
Forum Posts: 2503
Member Since:
29 October 2010

Offline
welcome to you and your pup. Sorry you had to find us here. I don't know much about that type of cancer but wanted to say you've come to the right place. We've seen many older pups do well post amp here. 
Hang in there. I know how overwhelming the cancer diagnosis is.
Jackie, angel Abby's mom
Abby: Aug 1, 2009 – Jan 10, 2012. Our beautiful rescue pup lived LARGE with osteosarcoma for 15 months – half her way-too-short life. I think our "halflistic" approach (mixing traditional meds + supplements) helped her thrive. (PM me for details. I'm happy to help.) She had lung mets for over a year. They took her from us in the end, but they cannot take her spirit! She will live forever in our hearts. She loved the beach and giving kisses and going to In-N-Out for a Flying Dutchman. Tripawds blog, and a more detailed blog here. Please also check out my novel, What the Dog Ate. Now also in paperback! Purchase it at Amazon via Tripawds and help support Tripawds!

krun15
Hi again,
An abdominal ultrasound is important because mast cell mets to the liver and spleen as well as the lymph system. Another thing to ask about it the mitotic index from the tumor biopsy.  That tells you in general how aggressive the cancer is.  A lower mitotic index is better.
And there are some newer meds on the market now- not available when Maggie was battling mast cell.  Talk about them with your vet as well- palladia and mastinib (also called kinivet).  Not saying any of them are right in your situation- but I believe knowledge is power!
My history with mast cell- Maggie lost her leg to a large grade II tumor.  After the surgery mast cells were found in her lymph system.  She was given 6 to 9 months with chemo, and lived almost 4 years.  She also had re-curing cutaneous tumors- one removed about 6 months before her amp, and 4 or 5 after her amp.  Maggie's little sis Tani also has mast cell cancer- recurring cutaneous tumors.  Mostly grade I, but at least one had dirty margins after removal.  I think we are at 9 confirmed tumors now- 5 have been removed.  For lots of reasons I am no longer removing tumors unless they become a ulceration issue.  Tani is 12.5 and dealing with other health issues.  Last time I had tumors removed two new ones popped up before the path report was back!!  Mast cell is really hard to predict and deal with.  You have to weigh everything and go with what is right for you and your girl- whats her name?
Let us know how the next vet visit goes.
Karen and the pugapalooza
Her name is Suki.  She did better today again! Yay!  Karen, thank you so much for all the different suggestions!  It helps so much to know what to look up online and what to ask the vet.  This is the first time our family is dealing with any type of cancer for human or animal so we know nothing about anything.  At this moment, I think the family is in agreement that if the cancer hasn't spread and the tumor can not be removed without amputating then we will do the amputation.  Of course as long as the vet agrees.  What are ulceration issues?  My other pittie, my own dog, Nunia has two tumors in her mammary glands but  the vet says at the moment we don't need to worry about them.  We aren't sure what kind of tumors they are but they haven't grown in years so the vet just said to monitor them.  Shanna, Trouble is being a complete inspiration to our family right now.  I'm so glad to hear about Trouble, Maggie and Candence because it's giving us so much hope! You guys are all so amazing! I'm so happy I found this website.  Our mood has improved greatly knowing that other dogs have survived which in turn seems to affect Suki who is doing pretty good considering the huge lump!  She jumped up to greet my mother fiance, her incision is actually healing! YAY! The bleeding is so minimal and she got a sponge bath to remove some of the blood from her face and neck.  

The Rainbow Bridge

Forum Posts: 23075
Member Since:
25 April 2007

Offline
Hi Suki, I'm glad you're feeling good and spunky today! I'm just now catching up on your story. Have you read our "Size and Age Matters" forum? You'll find lots of great stories about senior dogs who did well on three legs. We always tell folks to keep in mind that amputation isn't right for every dog, but if Suki has minimal pre-existing conditions like bad arthritis, she should be fine. What does your vet think about her being a candidate for amputation?

krun15
Marta,
What I mean by ulceration is that if one of Tani's tumors was to grow too much it could break or ulcerate the skin.  In that case the wound might never heal.  As you have seen with how long it took Suki's biopsy incision around to heal up some- sometimes if the tumor breaks or ulcerates on its own it just won't heal. It has to do with the mast cells in the skin I think- I don't remember exactly why the healing takes so long.
Good to hear that Suki is feeling better today.  It is very true that our pups cue off of our emotions.  It is up to us to be good, strong pack leaders to show our pups everything will be OK.
Hopefully you have run accross some of Dr. Dressler's posts on mast cell.  Another good site to check out is called Rosie's Road.  Very inspirational Blog about a lab who has beat mast cell for years.  She used palladia for along time and there is other info there.
Karen and the pugapalooza

Rock Hill, SC
Forum Posts: 873
Member Since:
28 November 2011

Offline

Hi Marta and Suki.
I can't speak to mast cell, because we were dealing with osteosarcoma.  But, our Zeus was 11 years old at the time of diagnosis and he did very well with the amputation.  He did sprain his back about a week after surgery and that ended up extending his recovery a bit.  It took him about a month to fully recover.  Good luck!!
Lisa
Zeus was a Husky mix diagnosed with Osteosarcoma at age 11.  A visible lung met and suspicious spot on his liver meant a poor prognosis-six weeks was our vet's best guess. We decided to fight for our boy and his right front leg was amputated on 12/1/11. We did six rounds of chemo, changed his diet and spoiled him completely rotten. We were blessed with 10 great months after diagnosis. Against the odds, the lung met remained a single met and grew very little over those months. A wonderful furbaby with the most gentle spirit, he fought with a strength that we never imagined he possessed. We have no regrets...
http://zeuspod......pawds.com/
Hi Folks!
Great news... at least I think it is.  Suki's tumor is shrinking!!! I didn't think it was possible!!! 

 We still have our vet appointment on the 2nd and I got a 2nd opinion appt on the 4th just to be safe.  But, get this!  We went up to the mountains for Christmas took Suki with us and she is doing amazing!  Eating, drinking, barking, sleeping through the night and the biopsy site healed.  No more bleeding!! Woo hoo!!  Karen, I read up on the ulcerations.... do you know if its normal for the tumor to shrink like Suki's is?  I can't wait to meet with the oncologist and the other oncologist next week.  The one on the fourth is supposedly one of the best in Colorado who has done many research papers specifically on mast cell tumors.  I'm even hopeful we may not need to amputate since the tumor has shrunk!  I will definetly read Rosie's Road.  Thanks for all the help guys!  Yay!!

krun15
What an encouraging update- mostly that Suki is feeling so good!
My experience with MCTs in my quad pug Tani is that they do shrink and grow.  Sometimes I can find tumors, sometimes I can't.  Some think that if they shrink and grow so much that they are more reactive- but it is not necessarily the case, at least for Tani. We even have standing orders from my vet to call in as soon as I find a new mass- so I can get Tani in immediately and have it aspirated.  If we wait for an appointment it might be gone.
Definitely keep all the vet appointments.  My oncologist calls mast cell cancer one of the most frustrating to treat because it is so unpredictable.  I don't want to be a wet blanket- but it is not unusual for tumors to shrink, then grow again. I would hate for you to get your hopes up without all the facts.  I really hope that the vets have some limb sparing treatment options for you and Suki.  But I do believe knowledge is power.  I have done lots of research, and talked to several vets before deciding to leave Tani's tumors in place at this point in her life.
Let us know what the vets have to say.
Karen and the pugapalooza
Hey Karen,
So apparently the shrinking was due to the Benadryl. I posted Suki's latest update on Sampson's thread hoping to give her some info.  The tumor on her paw is to larger for surgery and per three vet opinions Suki is not a candidate for amputation because of her age and the way she carries her weight.  But again we are very hopeful for a good outcome through chemo.   Had our first oncology visit on the 3rd with the vet basically telling us that euthanasia is our only option.  The visit on Friday (a 2nd opinion) gave us some hope. So we went to the vet, then got a second opinion and now we are trying to join the clinical trial.  The latest visit had many diagnostic tools. The ultrasound was clear, the x-rays were clear, the cytology of the lymph nodes was also clear.  We are now waiting on blood work and another biopsy result to check for the formation and DNA of the tumor. The only bad news is that they found an additional two mast cell tumors on her skin.
Forum Timezone:
America/Denver
Most Users Ever Online: 597
Currently Online:
34 Guest(s)
Currently Browsing this Page:
1 Guest(s)
Devices Used: Desktop (31), Phone (3)
Member Stats:
Guest Posters: 993
Members: 11796
Moderators: 2
Admins: 3
Forum Stats:
Groups: 4
Forums: 23
Topics: 14619
Posts: 205455