Join The Discussion
Learn about life on three legs in the forums below. Browse and search as a guest or register for free to take advantage of member benefits:
Instant post approval.
Private messages to members.
Subscribe to favorite topics.
Join the Live Chat and more!
T-shirts, Cards & Gifts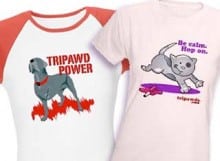 Visit the Tripawds Gift Shop for fun three legged dog & cat t-shirts, mugs and more!
A
A
A
Woof, I am new here but my mom has been reading a lot on the site.  My aunt told us about Jerry Dawg who used to live next door to her with his mom and dad, and we came and checked it out!  My family found out I have bone cancer this week, and my surgery is Monday.  I am still walking on my bad leg but it hurts.  My awesome vet Dr. B says I only need a partial surgery of my front leg because it has not spread yet.  My family is scared but they tell me I am brave and I will be okay.  Since I am a Newfie, I have a very long beautiful coat and Dr. B says I need to be shaved down - oh, the indignity!  My mom doesn't want my beautician to take it all off.  But should I go ahead and go Marine style?  What is easier for my care during recovery?  Do all doggies get totally shaved for their surgery?

San Diego, CA
Forum Posts: 2520
Member Since:
29 October 2010

Offline
Sorry you had to find yourself here.
Yep, most doggies get shaved a lot for surgery. Our pup looked like almost a quarter of her coat was gone. But then, for her they took her leg and her shoulder as well.
As far as I know, it's not common to have a partial removal of the front leg. You might want to discuss that with your vet - if it might lead to any complications or possible injuries in the future. Usually on this site folks with front leg amps discuss whether their vet will take the leg plus the shoulder, (and usually, yes, the shoulder goes too), but, like I said, I don't remember seeing someone here with cancer who did a partial amp.
Hopefully others will chime in. (Sorry - don't mean to add a complication or something to worry about the night before surgery.)
Jackie, Angel Abby's mom
Abby: Aug 1, 2009 – Jan 10, 2012. Our beautiful rescue pup lived LARGE with osteosarcoma for 15 months – half her way-too-short life. I think our "halflistic" approach (mixing traditional meds + supplements) helped her thrive. (PM me for details. I'm happy to help.) She had lung mets for over a year. They took her from us in the end, but they cannot take her spirit! She will live forever in our hearts. She loved the beach and giving kisses and going to In-N-Out for a
Flying Dutchman
.
Tripawds blog
, and a more detailed blog
here
. Please also check out my novel, What the Dog Ate.
Now also in paperback!
Purchase it at
Amazon via Tripawds
and help support Tripawds!
Thanks for the reply - after reading all the information we can it seems like the full leg shoulder might be the better course I am concerned about it only be a partial even though at first it seems the better option with less healing time not as tramatic a surgery - I am thinking it would be like the difference between a lumpectomy and mastectomy in a breast cancer patient better to just take the whole thing - vet wanted her totally shaved down not just the surgery site but in the big scheme of things it seems inconsequential maybe just keeping our minds off the bigger issue!

Orange County, CA

Vet Expert
Members

Vets
Forum Posts: 158
Member Since:
14 August 2012

Offline
I wish I could offer you some advice, but I am a little confused as well. I'm not sure how they are planning to do a "lumpectomy" if it is bone cancer. Have they done a biopsy? Did they tell you what type of cancer your dog has?
Most often the scapula (shoulder blade) is removed during the front limb amputation, not because of concern that the cancer has spread there, but because it is much more cosmetic after everything heals.
Is the cancer in the lower part of the leg, like just above the wrist joint? If that is the case, maybe your vet is talking about doing an amputation just below the shoulder joint, which would make more sense to me.
Or are they talking about doing a limb sparing procedure in the lower leg where a portion of the bone (with the tumor) is removed and they put a bone graft in place?
Sorry, I don't mean to bombard you with questions. Just trying to figure this out!
Anyway, your pooch is beautiful!!! Let us know how everything goes.
Right hind limb amputated 7/3/12 for OSA, started on alternating cycles of Carboplatin and Doxorubicin and oral Palladia. Single lung met 9/1. Met in the neck muscle removed 9/30. Large mass in sublumbar lymph node 10/2. Rescue chemo with ifosfamide 10/6. Mets to the rib and axillary lymph node 10/21. Started Leukeran and Pred 10/25. Wookie left this Earth for a far better place on 12/4/12. I miss you, Boo, you were my heart.
Sorry for the confusion - the lumpectomy/mastectomy was an analogy - What's happened with (human people) with breast cancer - although not the same type cancer they start out saving as much as possible cutting out the cancer nodes when they should have just lopped everything off to begin with.  So that's why I'm thinking that maybe best to take shoulder and everything rather than just cut off the leg above the tumor site. I am worried about it continuing to grow up the leg is not enough is amputated.
It is a full amputation (not bone saving) above the tumor site - which is growing around the "wrist" bone above the paw - and do a muscle wrap around the stump.  He's done these before.  My concern was if the cancer spreads up the leg because enough is not cut off.  If that makes sense?  After looking at pictures I'm wondering if the shoulder surgery also makes it more comfortable to lie on rather than having a stump.  If that makes sense?
However, with Bella's other medical histories the other reason to do only a partial is because of the shorter healing time and it would be a less traumatic surgery to her body.

The Rainbow Bridge

Team Tripawds
Forum Posts: 16695
Member Since:
25 April 2007

Offline
Hi Miabella, I just now saw your post. You sure are pretty! Who is your Auntie? Do you mean that she lived near me when I was in Eureka? Whooooaaaaah! Do you live there too?
I'm sorry you got the bad news about the cancer. What kind is it?
Most front leg amputees have the whole leg removed, sometimes the scapula is left and sometimes it isn't. My scapula was removed because I had a big fat tumor inside of it.
We have seen dogs here have partial front-limb amputations with a big long stump left over, and about half of them had to go back in for a second surgery to have the rest of the leg removed because they kept banging it around and the incision wouldn't heal. Be sure to quiz your vet thoroughly about why a partial amp is being recommended.
By the way, Wookie is a vet so you can feel confident with her input here!
Welcome, I can't wait to hear more about you.
Are your pawrents Jim and Renee?  My mom's sister is Jennifer Dickinson on Excelsior Road - and my Uncle Tim.  But they have those crazy Blue Heelers!  If Jim and Renee are your pawrents my mom met them a long time ago, but I never did.  I was adopted in Northern Wisconsin, so I am a water/snow dog - due to some circumstances we now live in Las Vegas which has not been a good environment for me - My mom feels extremely guilty about this - but when I am recuperated we are going to travel up north to the redwoods.  And I have never been to the ocean. 
My mom and dad had a good sit-down with Dr. B last week, but since then we obviously have a lot more questions.  We will be sure to go over everything before the surgery.  THANK YOU SO MUCH FOR BEING HERE.  IT IS A GREAT HELP.

krun15
I don't really have anything to add as my tripawd was a little rear amp pug. Probably not much bigger than your pup's head!
I just wanted to say welcome and good luck with the surgery. I'm a bit partial to nefiews, I had a mix years ago and he was the smartest pup I've had.
Karen and the pugapalooza

The Rainbow Bridge

Team Tripawds
Forum Posts: 16695
Member Since:
25 April 2007

Offline
miabella said
Are your pawrents Jim and Renee?  My mom's sister is Jennifer Dickinson on Excelsior Road - and my Uncle Tim.  But they have those crazy Blue Heelers!
Whooooaaaaaah! YES! OMD. Your sister is a wonderful, sweet gal and when we lived next door to Tim & Jen it was one of the best times of our lives. Best. Neighbors. Ever. No kiddin'! It was a very sad day when we left Eureka, they even came to my going away pawty! Although crazy Abby Dog didn't! 
Oooh, Las Vegas for a Newfie? well heck, keep that A/C on, you'll be OK

My Mom is going to PM you now!
Forum Timezone:
America/Denver
Most Users Ever Online: 597
Currently Online: krun15, bcullom
32 Guest(s)
Currently Browsing this Page:
1 Guest(s)
Devices Used: Desktop (28), Phone (2), Tablet (4)
Member Stats:
Guest Posters: 846
Members: 5854
Moderators: 4
Admins: 3
Forum Stats:
Groups: 4
Forums: 21
Topics: 10658
Posts: 142296