Join The Discussion
Learn about life on three legs in the forums below. Browse and search as a guest or register for free to take advantage of member benefits:
Instant post approval.
Private messages to members.
Subscribe to favorite topics.
Join the Live Chat and more!
Help Your Tripawd Swim!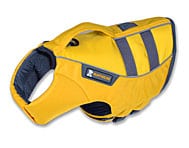 Three legged dogs swim safer and have more fun with the K9 Float Coat from Ruffwear!
A
A
A
Great news, I'm glad the incision is on the mend. Good job keeping that e-collar on him!
Our Wyatt Ray hates heat/cold compresses as well. Have you tried these tips? Maybe they'll help Draco learn to enjoy it. If not, no big deal, the fluid around the incision usually takes care of itself.
Hi Draco's pack.
my name is Petra and I am Super Stewie's Mum. Stewie is a Bernese/Rotty/RetrieverX and he's 7yrs old, weighing in @50.8kg (without his left leg) He was diagnosed with Osteosarcoma on July 5th, after limping for a couple of weeks. He had his amputation on July 10th. Stewie has experienced the same recovery symptoms as your Draco, not wanting to do #2, only eating from my hand... he has had no #1 issues. I found that putting a regular collar on him, with his extendable leash, (by suggestion of my vet) and giving him a little extra freedom (I was always close by for when he stumbled), he was able to do his #2 business. It took him a few days to feel good at it by himself, but now is has no problem. 
Good luck! And if you want to find out more about my big boy, I have a blog set up for him. It is ongoing and I am trying to catch up, but there is also some fantastic stories on this site, that are helping not only physically, but mentally too! The support here on Tripawds is incredible!
love from Super Stewie and his pack xxx

So far Draco doesn't mind the heat compress. I've only tried it once on him earlier today and he just laid there. He was also in the middle of having had all of his medications, could be why he didn't bother moving around.
I went ahead and started Draco on
K9 Immunity
Plus. So we'll see how that goes for him. Draco's appetite hasn't changed, he'll even eat the whole bag of food if I leave it available for him. He'll usually do his business outside, #1 atleast 2-3 times a day, and #2 atleast once a day. There have been times when I'd take him outside and he'd just stand there or lay down on the grass and do nothing, which follows with me having to eventually haul him back inside via his harness. His mobility is still taking a while. Inside he's confined to the first floor, which is a small room. He'll hop around a few times when he's up to get some water/food and find a spot to lay down. But otherwise he doesn't stay up for too long. When he's outside, I have to help him to keep moving forward, or he'll just stand there or lay down. If I didn't have both front and back "Help em up" harnesses on him, I'd have a hard time getting him up and back to the house. I don't know how much he weighs now, before his amputation he was around 125 or 128 pounds. Having to carry him in and out for potty is out of the question for me! 

 When should I encourage him to move around more? With him on meds, I'm kind of hesitant to do some mobility exercises, he's already a clumsy dog character. If he trips his only front leg, he goes lunging forward onto the ground. 
 Speaking of medications, how long should Draco be on the meds after his incision heals? And then what about chemo?
I'm looking into scheduling an appointment for his staples removal soon. I was told me the oncologist that he can also start chemotherapy when he comes in for his staple removal. The treatment plan that they sent me looks to be a 16 weeks process. Is that right?
So far I haven't attempted to have Draco go up and down stairs yet, he's been staying in the first floor room. Ideally I'd like him to be comfortable going up and down between the 1st and 2nd floor atleast. My townhouse has 4 floors, but he doesn't need to go up to the 3rd or 4th floors. I also haven't attempted to get him in/out of the car since I brought him home. So I want to schedule his appointments for when he's more mobile, that way I'm not taking the majority of his weight hauling him around and hurting myself further. 
Recap: Since 5 days from coming home after his surgery, he somehow slipped out of his e-collar and pulled a few staples off of his incision area, but at that time there was just some drainage but nothing infected nor were there any separations. It took a few days for that small area to stop draining and healed/crusted up.
So I'm thinking a few more days or a week past the 14 days mark should still be ok to have the staples removed? Just wondering if the staples being in longer will just be an annoyance when they are technical okay to be removed? 
I also noticed his harness seems to be pulling his skin around the top part of his incision, making that area bleed from the top staples, not from the incision itself though. I tried loosening the harness, but that just made the harness go over the incision area when I need to use it to help Draco move forward. Having the harness secured more tight made the skin pulling issue I mentioned that would pull the stapled area of his skin causing him to bleed from the top staples. Any suggestions?
So far I have two types of e-collars for Draco. The inflatable donut e-collar and a soft e-collar. I don't trust him enough to leave him without an e-collar on, or even to just have a tshirt on because I can imagine him trying to chew himself through the tshirt. Can't go taking an emergency day off work to haul him to the vets to be re-stapled/stitched back up plus the big vet bill!

Has anyone had to remodel their vehicle to accommodate a large dog? I have a car and have been using a backseat hammock for Draco to take up the backseat without worrying about him falling into the foot area. I thought about maybe having the front passenger seat removed so that there is less height to get Draco into the car and have more floor room. But then I read somewhere that could cause issues with the passenger air bag and some other wiring.
Draco's dad - RJ
It's been some days since I last posted.
Draco's birthday was this past Wednesday, August 2nd, he turned 8 years old! Got him a big bully stick, a toy, and some raw food.
Earlier today he got his staples removed at the vet and also started his first round of chemotherapy. Draco was a little wobbly for a while afterwards, he slept mostly when we got home. The oncologist said to take him off Tramadol, as it will give him more of a sedation when he needs to walk and move around. But to keep him on Gabapentin and the Carprofen. The oncologist also prescribed Cerenia for the next four days for nausea due to the chemo. As well as a couple of other medications for "as needed" if the typical side-effects of chemo come up, like loose stool/diarrhea and more nausea.
These past few days Draco has been dealing with some bad urine burns/rash all over his groin area due to urine being soaked by his "Help 'em up" back harness. His thick fur was covering it and the harness most likely made it worse rubbing and pulling his fur, so I had to trim and shave him down some to clean him up. The vet prescribed him some antibiotics today as well as some steroid powder to apply in the affected areas. 
For those who end up using a back harness, make sure you always check how the skin is doing! I feel so bad that Draco had to go through this. Pictures attached:
I will try to post updated pictures of Draco soon!
-Draco's dad- RJ
OH WOW!!!   JUST SAW YOUR POST ON THE 28th, AND NOW THIS ONE!!   Looks like we all missed rhe one on the 28th!  So sorry about that!  And you have a lot of questions that were left unanwsered...ugh!! 
Well, looks like as of today, you're moving forward and already have some answer, so that's good!!
Yeah, the one thingabout chemo is it can be stopped if need be.  Sou ds like your O co has you well prepared shoukd Draco haveany issues.  Probably the most common is nausea.  The Cerinia should combst that.  My Happy Hannah had no side effects so she was lucky along those lines.  She had four rou ds kf Carboplatin.
My Happy Hannah was 125 lbs so I had challenges getting her in and out of the car.  She was lretty helpful though.  I just lut a bunch of blankets in the "well" behind the front seat.
Geez....what a shame about the rash the harnesses caused!!!   Thank you so much for giving us the heads up a put that potential issue!  Wosh I had an alternative for you...maybe some others will come up with something to prevent this and to stopnit getting any worse.   No wonder Draco doesn't feel like walking!!   Ouch!!
THANKS SO MUCH FOR TKI G THE TIME TO UPDATE ON DRACO!!!   So sorry you earlier lost didn't get addressed, but looks like you have things figured out!
Once you get  Draco up, are you able to take the harness off and see if he walks better on his own..or does he need the harness.  I'm sure he feels better without that rubbing him.
 Be sure and take time to celebrate every "little" improvement....because they are all. HUGE IMPROVEMENTS this early during recovery!  Ha g in there!  You're doing an outstanding job!!!  
Hugs
Sally and Alumni Happy Hannah and Merry Myrtle and Frankie too!
Happy Hannah had a glorious additional bonus time of over one yr & two months after amp for osteo! She made me laugh everyday! Joined April's Angels after send off meal of steak, ice cream, M&Ms & deer poop!
Dearest Draco, you beautiful boy. Stewie and I are so sorry to hear about your nasty rash! If it's not one thing, it's gonna be another... you can be sure if that for a while!  We hope you get through that nasty rash real quick. Poor fella!
 Sally, I have a question for you if I may?... we are scheduled for 6 treatments of Carboplatin for Stewie, we've already been through one session (thankfully with unremarkable side effects.) and have read many reports of only 4 sessions being typically used. Paul & I have discussed doing just the four sessions. Wondering what your thoughts are on this...? Thank you...

Take care Draco & Dad, our thoughts will be with you! 

Super Stewie, Petra, Paul, Spike, Chester &  Miss Lily 🐾🐾🐾🐾❤️
Hey Petra!  Yeah, that seems to be a question we see a lot around here!  And for whstevsr it's  worth, you'll find many Oncos who are proponents of four.......many who are proponents of five...and .many who are proponents of six!!!    Weve had various "discussion posts" oh here on the subject.  Quite frankly, and this is just my unprofessional opinion, it seems to depend on which Onco you speak with and which report you read!!! So my take away is,  it basically comes down  to what YOU "feel" is right for you and Stu! 🙂
Since you asked me my personal thoughts on this, I'll share.  In NO way is it professional" or based one one scientific study over another!  It's based on my conversations with Happy Hannah's Onco, my commitment to Hzpoy Hannah to do whatever is best for her on every level (focuxed on quality always) and some experiences I've seen here.
As you might imagine, the experiences vary here.   The "personal" conclusion I've developed is, like a lot of things with this rotten disease, it's a crap shoot!!   Some appear to get longevity with less treatments...some with more....some appear to get less time regardless of number of chemo....some appear to get longevity with  no chemo, some don't!
The Onco that tended to Happy Hannah said four is what she recommended and that was what the thinking was at the Vet school she attended.  I "think" at the time she was a fairly recent graduates from either Cornell or Clemson...I can't recall for certain though.  Actually, during the consultations, she didn't even mention  more than four!   It wasn't until I was on the site that I saw more treatments were sometimes used.  Anyway, she said four was her usual protocol!  She didn't do more just for the sake of doing more...less is more....something like that....can't remember everything she said.  
Bottom line for me.....IF I ever was faced with the decision again (AND I HOPE I NEVER, EVER AM), I would be comfortable with a decision of FOUR.  Although Happy Hannah sailed through her treatme ts, there was the added bonus of a sense of relief when her chemo was complete.  No more poking, prodding, sticking with a needle. 🙂   For me, I knew I would not second guess my decision.  I would have no regrets.  We just got on with living life to the fullest.  It was very freeing! 🙂
THERE IS NO RIGHT OR WRONG!!  'Others have chosen more treatments and felt very comfortable in their decision and have valid reasons for doing so.  Others have chosen no treatment and felt very comfortable with their decion and havrpe valid reasons for doing so!!
So there ya' have it in the "for whatever it's worth" column!!
Give Stewie a scoop of ice cream for me!  You have some too!
Hugs
Sally and Alumni Happy Hannah and Merry Myrtle and Frankie too!
Happy Hannah had a glorious additional bonus time of over one yr & two months after amp for osteo! She made me laugh everyday! Joined April's Angels after send off meal of steak, ice cream, M&Ms & deer poop!
Oh my gosh poor Draco! I'm so sorry that happened, it looks incredibly painful. I hope the antibiotics are working. This is yet another reason why we don't carry that harness in our store. Just too many issues we've seen through the years. At least you caught it though.
I do apologize for not seeing your post on the 28th either. If you ever post and don't hear back from folks, don't feel bad about bumping your post back up by adding a reply and saying something like "any feedback on my questions?"
This Tripawds News blog post should answer your and Petra's questions about four versus six rounds of carboplatin for osteosarcoma 
Hi Draco & Pack, Stewie hopes that you are on the mend again and feeling a little better? How is Draco's Dad holding out? Sending best wishes to you. 
Sally, thank you so much for your thoughts on whether or not to go for the 4 or the 6 sessions of Carboplatin chemotherapy. You have given us more food for thought and will have some more questions for our vet next week. Paul & I have some more consideration to give to this I think... I really do appreciate you giving us your view on things! Thank you for giving your experience with Happy Hannah, an experience that gives me and others a little peace of mind. 
I will let you know as we proceed with Stewie's Chemo. i will be writing Stewie's 1 Month Ampuversay blog, in the next couple of days and fill you all in on Stewie's fantastic progress over the past week!
All the very best to the Tripawds community and the people that are always there for us! 
Sloppy kisses from Stewie & his pack,
Petra, Paul, Spike, Chester & Miss Lily ❤️🐾🐾🐾🐾❤️
Draco is feeling better with his skin issues in the groin area. The steroid powder seems to be helping a lot. I started him on his antibiotics earlier today, that's going to go on for the next couple of weeks. 
Draco has been eating and drinking normally, and urinating and pooping normally as well. So far no major side effects from his first chemo except for some nausea symptoms. But I wonder if that's because he's off Tramadol? Maybe I'm over analyzing it. 
I checked Draco's chemo treatment plan, it looks like his treatment plan is for 5 sessions of carboplatin. 
Oh what a relief he's doing better! The nausea could be from the antibiotics, did that just start happening?
As for the # of chemo sessions, that sounds like a hoppy medium!
The nausea symptoms started yesterday after his chemo. He seems to be keeping his mouth closed more and has a slight drool happening. Atleast that's what I'm thinking is nausea for him. He usually has his mouth open smiling all the time. No vomiting or decreased appetite. Below are pictures I took of him the night of his birthday August 2nd:
I've got a couple of different thundershirts for him to cover his amp site for extra padding. Mostly so his harness isn't rubbing directly against his amp site skin. Pictures of those on him coming soon.
Draco's Dad - RJ
HAPPY BIRTHDAY DRACO!!!   Ice cream and cake, right?   You did get ice cream and cake?!!  And steak!!!   You are very, very photogenic.....such a handsome boy!!!   Love the sweet white blaze on your nose!
Keep these great pictures coming!
hugs. 
Sally and Alumni Happy Hannah and Merry Myrtle and Frankie too!
Happy Hannah had a glorious additional bonus time of over one yr & two months after amp for osteo! She made me laugh everyday! Joined April's Angels after send off meal of steak, ice cream, M&Ms & deer poop!
Happy Birthday to youuuu..... Happy Birthday to youuu....
Happy Birthday Dear Dracooooo..... Happy Birthday to youuuuuu.......!!!
Sally is right, we hope you got a REALLY special treat for your day!
hugs & sloppy kisses from Super Stu's pack,
Petra, Paul, Spike🐾, Chester🐾& Miss Lily🐾❤️🎉🎈🥓🌭🍔🧀🍧🍨🎂

What a hoppy boy! He is smiling even when he's nauseated. Wow!
I'm glad you're using the t-shirt underneath, we highly recommend that little trick.
I hope he starts feeling better. If you notice the nausea getting worse let your vet know if you haven't already. Usually something like the drug Cerenia will do the trick.
Forum Timezone:
America/Denver
Most Users Ever Online: 597
Currently Online: eurydice, paws120, tm2018
68 Guest(s)
Currently Browsing this Page:
1 Guest(s)
Devices Used: Desktop (64), Phone (6), Tablet (1)
Member Stats:
Guest Posters: 1000
Members: 12175
Moderators: 2
Admins: 3
Forum Stats:
Groups: 4
Forums: 23
Topics: 14816
Posts: 207980