Join The Discussion
Learn about life on three legs in the forums below. Browse and search as a guest or register for free to take advantage of member benefits:
Instant post approval.
Private messages to members.
Subscribe to favorite topics.
Join the Live Chat and more!
Looking For A Harness?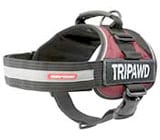 Shop Tripawds Gear for the best harnesses for three legged dogs!
A
A
A

Forum Posts: 3
Member Since:
6 June 2017

Offline
Hey Guys! 
Here's a quick update on Pablo, he has really done well post amputation which was just over a month ago! We started the first chemotherapy the last week of June and he did well with the first post-chemo bloodwork! He was lethargic and had a decreased appetite for the first few days after, needed some anti-nasea meds and then about day 5 he seemed like himself again! On day 16 post-chemo  something was clearly not right, he was trembling and panting excessively, laying on his side, not wanting to move or go outside, quite weak and had no appetite at all.
We re-admitted him to the hospital, he had a fever of 104 and his WBC (Neutrofils) was almost at zero. The good news was that the chest X-rays showed no signs of pneumonia or cancer spread. This morning the fever has cleared and the WBC is slowly climbing however he was extremely nauseous so they re-ran CBC to make sure they weren't missing anything. The values associated with Pancreatitis were both elevated and we are currently awaiting an ultrasound to confirm. It sounded as though this was an accidental finding and not directly related to the fever and WBC or the chemo. 
So, if this happened after the first treatment, should we expect this to happen to his WBC after each dose (Pancreatitis not included)? If so, I think we are feeling like it's not fair to Pablo to put him through the chemo (Pablo is 12 years old). I will leave no stone unturned but not at his expense, I guess I am looking for opinions here...I am not sure what's right and what to do. His next chemo is supposed to be on this coming Tuesday and at this moment it feels cruel to put him through that.
Alternatively, we have been wanting to try treating him with Rick Simpson oil and are starting to feel like that may be a better option than the chemo, obviously there are no guarantees but I guess thats true for all of this..
I appreciate any and all perspectives and thank you for taking your time to try to help us all in this journey!! 

Forum Posts: 313
Member Since:
26 January 2017

Offline
Sorry you and Pablo had to go through that. Definitely scary. 
The Carboplatin is going to reduce the neutrofils level each time. Unfortunately, in trying to get cancer cells, it's also going to get some of the good cells. That's why they run CBC tests both before and after (a week in our case) giving a dose - to make sure the levels are high enough. The good news is, the body reproduces them fairly quickly too. 
I know our oncologist wouldn't adminster chemo if the neutrophils were below 2,200, but she really preferred it to be above 3,000. Twice Rocky was either at or below the 3,000 level, so we pushed his treatment back a week (we had three weeks between doses normally, but went four for the last two we did) and his levels rose enough with that extra week to be sufficient. The oncologist can also reduce the dosage. 
Tuesday seems awfully early if Pablo just went through this. I'd definitely talk to my oncologist about it and ensure his levels are sufficient for the Carbo and then make sure the dosage is appropriate. 
David and Rocky (and Baxter now too!)
Rocky had his right front leg amputated on Valentine's Day 2017 after being diagnosed with osteosarcoma.
He joined the September Saints on September 3, 2017.
He is the toughest, bravest, sweetest and best friend I'll ever know. 

The Rainbow Bridge

Forum Posts: 23090
Member Since:
25 April 2007

Offline
Poor Pablo! I'm so sorry, that's a really rough time you guys have been through. Just glad he's OK now.
Did you mention your concerns to your oncologist? What did s/he say?
Sometimes this happens once and never again. Now that you and the vets know how Pablo reacted, they can adjust his dosages accordingly. Oncologists are always concerned with quality of life for their patients so they will make it a priority to make sure he has a better experience. Talk to them and let them know your concerns before Tuesday OK?

Virginia


Forum Posts: 15720
Member Since:
22 February 2013

Offline
Oh my goodness! That face!!!! Smooching the screen!!! 🙂
So sorry Pablo is having these rotten challenges!! Out of the blue, unrelated things like this do happen. And then to have the fever, the almost zero WBC, a rough couple of days after the first chemo.....all that just stinks!!
Gllad Rocky's Dad chimed in. DITTO! Good feedback. And as Jerry said, what has your Onco said?
I also think that, id you continue with another dose, Tuesdsy certainly does sounds too soon considering what Pablo just went through! Hr needs healing time and doses can certainly be put on hold in cases like this!
For now, just get him over this hurdle, and then you can decide if and how you are going to proceed with Carbo.
And there are times ahen dogs do NOT tolerate chemo and have to stop. That is one of the reasons people consider it because you can alsways stop.
We just had one of our special tripawd heros transition after a two year victory as a front legger HUGE dog who stopped his chemo after a treatment or two.
Update when you can, okay?
Lpts of hugs!
Sally and Alumni Happy Hannah and Merry Myrtle and Frankie too!
Happy Hannah had a glorious additional bonus time of over one yr & two months after amp for osteo! She made me laugh everyday! Joined April's Angels after send off meal of steak, ice cream, M&Ms & deer poop!

Forum Posts: 2000
Member Since:
14 February 2016

Offline
Just to echo, chemo is your choice.  It is not required or a guarantee of more time.   You have to make the decision about what is best for Pablo, and for some dogs, continued chemo is not the right answer.
Otis - 106 pound lab/Dane mix, lost his right front leg to osteosarcoma on Febuary 9, 2016.  Four rounds of carboplatin completed in April, 2016.  Lung mets August 25, 2016.  Said goodbye too soon on September 4, 2016.   Lost his adopted sister, Tess, suddenly on October 9, 2016. likely due to hemangiosarcoma.  
Wherever they are, they are together.
Forum Posts: 2
Member Since:
14 July 2017

Offline
So happy to have found this site - my 7 yr old golden-lab mix Sammy just had right front amputation last Thursday. He's doing so well, almost back to his happy self. We just had a call from the vet with his biopsy results and a recommendation for an oncologist consultation for chemo. Have been trying to search the internet for information on chemo treatment but have just succeeded in scaring myself. Would so appreciate any information on what I need to ask the oncologist, and how many rounds of chemo a dog usually has to go thru? His scans didn't show any mets. We're having a hard time understanding that even if we do chemo he might not have long. And I hate to look at the financial side, but any estimates of the cost for chemo would be helpful, just so we are prepared. Thank you for any help!

The Rainbow Bridge

Forum Posts: 23090
Member Since:
25 April 2007

Offline
Hey there, I see you started a new topic with the same questions so I answered a bit over there OK? Back in the AM for some more input.
Forum Timezone:
America/Denver
Most Users Ever Online: 597
Currently Online:
54 Guest(s)
Currently Browsing this Page:
1 Guest(s)
Devices Used: Desktop (50), Phone (3), Tablet (1)
Member Stats:
Guest Posters: 993
Members: 11813
Moderators: 2
Admins: 3
Forum Stats:
Groups: 4
Forums: 23
Topics: 14629
Posts: 205554