Join The Discussion
Learn about life on three legs in the forums below. Browse and search as a guest or register for free to take advantage of member benefits:
Instant post approval.
Private messages to members.
Subscribe to favorite topics.
Join the Live Chat and more!
Best Support Harnesses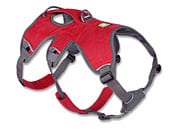 Visit the Gear Shop for the best harnesses and helpful products for Tripawds!
A
A
A

Forum Posts: 5452
Member Since:
21 May 2016

Offline
Hey, now we have a proper cow on tripawds !!!
Me and Eurydice are totally excited and looking super hipper ultra forward to hear all about this wonderful calf !
And yes, some photos and videos pleeeease !
Sending you both a huge hug 
Teresa and Eurydice xx
Eurydice 77kg/170lb Great Dane limping end of April 2016, amputation (right front leg/osteosarcoma) 4 May 2016 6 courses of carboplatin followed by metronomic therapy, lung mets found 30 Nov 2016. 3 courses of doxorubicin, PET scan 26 Jan 2017 showed more mets so stopped chemo. Holistic route April 2017. Lung X-ray 5 May 2017 showed several tennis ball size mets, started cortisone and diuretics. Miss Cow earned her XXL silver wings 12 June 2017, 13 months and 1 week after amputation and 6 1/2 months after lung mets, she was the goofiest dawg ever and is now happily flying from cloud to cloud woof woofing away :-) 

Forum Posts: 19
Member Since:
23 August 2016

Offline
Hi everyone,
This is a tough update for me to write. Murphy had to go to Tufts yesterday. He was favoring his left hind leg same side as his amp. Went in and they discovered he has a torn ligament in his knee. What's worse is that his cancer spread to his spine and right below his left knee. I am heart broken and now have to make the hardest decision any pet parent has to make. Can you all please send my brave guy love and positive energy through this tough time. 
Much love to you all,
Katrina and Murphy

Green Bay, WI

Forum Posts: 726
Member Since:
18 May 2014

Offline
 So sorry to hear this, Katrina.....we're sending all our love and hugs to you as you travel this next journey with your boy.  Prayers for strenght and courage at this most difficult time.
Paula and Nitro
Nitro 11 1/2  yr old Doberman; right front amp June 2014. Had 6 doses carboplatin, followed by metronomic therapy. Rocked it on 3 legs for over 3 years! My Warrior beat cancer, but couldn't beat old age. He crossed the Bridge peacefully on July 25, 2017, with dignity and on his terms.  Follow his blog entitled "Doberman's journey"
http://nitro.tr.....27_2_1.jpg
"Be good, mama loves you".....run free my beautiful Warrior

London, UK

Forum Posts: 1446
Member Since:
15 December 2015

Offline
Ditto the sentiments above. This is just the saddest news. I'm so sorry. Sending you and Murphy love and strength and every positive wish during this terribly difficult time 


Meg, Clare and Elsie Pie xxx
Meg, Mutt, aged around 9, adopted 31/12/2009. Sudden explosive right elbow fracture 06/12 (caused by IOHC), diagnosed with End Stage Arthritis 03/15, Total Elbow Replacement 08/15, problems with healing leading to skin graft & skin flap surgery, Chronic Infection leading to implant breakdown. Became a Tripawd 9th March 2016. 
Lives with Mum, Clare, watched over by Angel Pie and Angel Billie
My life as a MEG-A-STAR 




Forum Posts: 2000
Member Since:
14 February 2016

Offline
I am so sorry to hear this news.   We will all be thinking about you and Murphy.
Otis - 106 pound lab/Dane mix, lost his right front leg to osteosarcoma on Febuary 9, 2016.  Four rounds of carboplatin completed in April, 2016.  Lung mets August 25, 2016.  Said goodbye too soon on September 4, 2016.   Lost his adopted sister, Tess, suddenly on October 9, 2016. likely due to hemangiosarcoma.  
Wherever they are, they are together.

The Rainbow Bridge

Forum Posts: 23090
Member Since:
25 April 2007

Offline
You know we will. Our heart aches for Murphy and you, I'm really sorry. Whatever you need we are here for you OK? And never forget that you have been an amazing pet parent to your boy. Murphy's body might be weak but his spirit is still strong, and will never leave your side.

Schofield, WI
Forum Posts: 1388
Member Since:
13 August 2015

Offline

Virginia


Forum Posts: 15720
Member Since:
22 February 2013

Offline
Oh Katrina. Like everyone else here, I am sooooo honored to know this magnificent Soul named Murphy. We are all so sorry to hear this.
Murphy has been doing so well and has handled all his hurdles like an Olympian Champion. And as a testament to Murphy's incredible determination and resolve to continue to make the most out of every moment, the only "sympton" he showed was some "favoring".
This rotten piece of crap disease is so brutal. It shows no mercy to our beloved furbabies. And yet brave Murphy plotted on without giving in...regardless of what xrays show.
I do hope some treatments are still possible to keep things at bay a bit longer. In the meantime, Murphy is by your side right now. None of these "results" changed anything in Murphy's world. Each moment with you is an eternal and never ending moment of happiness to Murphy. Do not let ANYTHING interfere with those moments! Don t waste ine second worrying about the tomorrows. Your love for Murphy is so strong you will get through this with total and complete focus on staying in the present with Magnificent Murphy.
And you already knkw this, but nothing is off limits when it comes to food! The more decadent a dd loaded with sugar, the better! Ice cream, cookies, cupcakes, and more ice cream...even a bit of chocolate syrup over the ice cream!
We are here with you, okay? We have the TRIPAWDS HELPLINE too, so don't hesitate to reach out.
Surrounding you with love and strength
Sally and Alumni Happy Hannah and Merry Myrtle and Frankie too
Happy Hannah had a glorious additional bonus time of over one yr & two months after amp for osteo! She made me laugh everyday! Joined April's Angels after send off meal of steak, ice cream, M&Ms & deer poop!

Forum Posts: 19
Member Since:
23 August 2016

Offline
It is with a heavy and broken heart that I am writing this post. I returned home from work today to find out Murphy passed away this morning. He was my best friend for the past 9 years. I will never forget and will always love my goofy, loveable, gentle giant lug of a dog. He will always be in my heart 💗 May he rest easy and have a safe journey over the rainbow bridge 💕💗💕

Virginia


Forum Posts: 15720
Member Since:
22 February 2013

Offline
Oh Katrina, to hear this just breaks my heart.
The tears we've shed this month seem to be non stop. And now we shed tears today for Murphy. This sweet "goofy gente lug of a dog" touched us all! Murphy will continue to touch lives with his brave and inspirational story.
Murphy got almost an additional year of loving and spoiling and enjoying a pain free life! He was a ROCK STAR in so many ways. He showed the world how well big dogs do well,; he showed the world how to sail through challenge after challenge; he even made the new because of the trial he was in!
Yes, Murphy's life mattered and he DEFINITELY made a difference!!
Many of us here know the deafening void that faces you now. We know the hurt, the sadness, the gutwrenching and non stop crying.
We also know that the sadness WILL subside. The thousands of happy memories will push the sadness further and further into the background. We also know Murphy WLL send you messages and show you signs that he is happy AND still by your side!
Stay connected. We would looove to hear more About Murphy and all his delightful adventures with you. And we know you and that goofy boy had plenty!
Surrounding you with our love a d lots of hugs
Sally and My Chunky Spiritual Being Happy Hannah and Merry Myrtle and Frankie
Happy Hannah had a glorious additional bonus time of over one yr & two months after amp for osteo! She made me laugh everyday! Joined April's Angels after send off meal of steak, ice cream, M&Ms & deer poop!

The Rainbow Bridge

Forum Posts: 23090
Member Since:
25 April 2007

Offline
Ohhhhh my gosh this is just the saddest news, I'm sorry about Murphy!
I know it's hard to cope with such a huge loss in your life. Murphy was a big dog with a big presence. I'll bet everyone who met him will remember your handsome pup. And on three legs? What a hero!
You and Murphy went through a lot together. Give yourself time to grieve. Remember there is no set timeline and if or when you want to talk, we understand what you are feeling. Never forget that you gave him the best home and love and care that any dog could ask for. Through thick and thin you were there for that boy. May all those good times surround you with love and carry you through the sadness.

Forum Posts: 153
Member Since:
31 December 2016

Offline
Oh Katrina I am so sorry to hear ;"(.   I am glad I was able to meet you and Murphy at TUFTS and see him on TV.
Murphy sure was a fighter and you certainly are a great Mom.
It is turning out to be a really sad time around here.  
Rhonda
Otis - 121 lbs pre amp - 114 lbs post amp and now 118 lb Great Dane - English Mastiff X.  Started limping on 12/24/16.  Diagnosed with Osteosarcoma 12/28/16 - amputation of front left leg on 1/6/17.  Stitches out and 1st round of Chemo on 1/19/17.   2nd round of Carboplatin on 2/10/17 - 3rd round on 3/2/2017.  4th round was scheduled for 3/22/17 - however due to low WBC postponed - 4th Chemo completed on 3/28/17.  Had breathing difficulties, stayed in Tufts ICU overnight.  Due for 2 more rounds of Chemo but we are opting to go with homeopathy with Dr. Loops instead.

Schofield, WI
Forum Posts: 1388
Member Since:
13 August 2015

Offline

Norene, TN
Forum Posts: 1070
Member Since:
21 October 2014

Offline
So very sorry to read this news. My heart goes out to you.
Remember, time doesn't exist at the Bridge. You are already with him. 


pam
Harmony became a Tripawd on 10/21/14 (MCT). She left us way too soon on 11/1/14.
"We miss you so much; our love, our heart, our Harmony."
- Pam, Ron and Melody, Meesha and DoubleStuff
Forum Timezone:
America/Denver
Most Users Ever Online: 597
Currently Online:
73 Guest(s)
Currently Browsing this Page:
1 Guest(s)
Devices Used: Desktop (65), Phone (8)
Member Stats:
Guest Posters: 993
Members: 11813
Moderators: 2
Admins: 3
Forum Stats:
Groups: 4
Forums: 23
Topics: 14629
Posts: 205554