Join The Discussion
Learn about life on three legs in the forums below. Browse and search as a guest or register for free to take advantage of member benefits:
Instant post approval.
Private messages to members.
Subscribe to favorite topics.
Join the Live Chat and more!
T-shirts, Cards & Gifts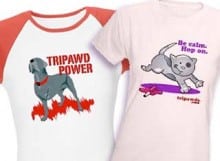 Visit the Tripawds Gift Shop for fun three legged dog/cat t-shirts & more! Browse all designs.
A
A
A



12 yo 100 lb Mastweiler with front right shoulder CSA, should we amputate?

Add Reply

Add Topic

The Rainbow Bridge

Forum Posts: 23397
Member Since:
25 April 2007

Offline
Thanks for advocating for him Rob. There's been a study that shows that dogs given Gabapentin before surgery and after do much better after amputation.
Best wishes to you both, we'll be thinking of you.
It is 7pm now (11 hours after he went in for the surgery) and we have been home for an hour. Bruno is resting quietly now. No matter how prepared you think that you are for this it is quite a shock none the less.
The surgery went well, there was a student and professor in the OR along with the primary surgeon which I was fine with. About 6 hours after he went in they gave him back with a good briefing for his home care.
The written report shows that they performed a scapulectomy and removed the auxillary and the prescapular lymph nodes.
The report states that they administered Acepromazine, Morphine and Carprofen, as well as a perioperative drip of Morphine, Lidocaine and Ketamine, prophylactic Cefazoline and did a nerve block with lidocaine.
He has a Fentanyl patch on his hip and they gave him a compression bandage with an active drain system. He still has a catheter in his front leg and another in his rear leg. The surgeon said that I can remove the catheters tomorrow as long as he is eating and drinking properly but so far he has not taken any water, still early I guess.
They gave me 10 days worth of meds and said that will be enough although I was asking for 2 weeks or more. He has Firocoxib to be given 227mg once daily for a week. He has Tramadol to be given 150mg twice daily with instructions to increase to 3 times daily if needed. He has Gabapentin to be given 300mg twice daily and Cephalexin to be given 1250mg twice daily.
Finger crossed that he has a peaceful night and will eat and drink in the morning.

The Rainbow Bridge

Forum Posts: 23397
Member Since:
25 April 2007

Offline
YAAAY! I'm so hoppy he made it though. The pain management sounds stellar, he should be feeling reallllly good. 10 days is about the average dogs are on the pain meds, so I can see why they were hesitant to give you more. But if you feel he needs them I know you'll ask. You are a pawesome advocate!
How's he doing today? How are YOU doing? Did you get any sleep?
Thanks for the update when you can. We're all breathing a sigh of relief here that you two are on the way to recovery! 
He was good until about 5am when he started whining but would stopped when I pet him. I gave him water with a syringe as he was laying on his side and he was eager to drink. About 6am he was trying to sit up but it was awkward for him so I helped him and placed some small cushions behind him to help keep him upright. I gave him his antibiotics at this point and he drank from his bowl.
About 30 minutes later he was really moving around a lot in his bed so I gave him some canned food and his first dose of Gabapentin and Tramadol. I just removed his two catheters as he is definitely eating and drinking well on his own.

Virginia


Forum Posts: 16034
Member Since:
22 February 2013

Offline
I've been following yiur journey so far and, like everyone here, am in awe ofnyour devotion to Bruno and your determination to do what's best for him...even if it means "educating" the Vets on exactly what that may be!!
You are in the hardest part of recovery right now. Certainly bringing Bruno home the same day as surgery and watching him as he continues to get out from under the anesthesia is not easy!
My Happy Hannah (a Bullmastiff) was restless and whiny for three nights straight and that was after spending the first night at the clinic!
You may have to tweak the pain meds as Bruno weans off of the hospital meds. It's important to stay ahead of the pain.
YAAAAAAAAAY FOR EATING AND DRINKING!!! Such a good boy! 🙂
Try and get a little rest yourself when you can! You've been through a lot to get to this point and it is all stressful and exhausting. Recovery doesn't last forever though. Soon Bruno will have his sparkle back and enjoy being back to his "couch potato self"!
STAY CONNECTED! Update as you can. We're all cheering for Bruno and can't wait to see some pictures of this big boy! 🙂
Hugs
Sally and Alumni Happy Hannah and Merry Myrtle and Frankie too!
Happy Hannah had a glorious additional bonus time of over one yr & two months after amp for osteo! She made me laugh everyday! Joined April's Angels after send off meal of steak, ice cream, M&Ms & deer poop!
Thanks Sally.
I think that we are ahead of the pain meds as he is resting nicely now but I am not looking forward to tackling his wound dressing and drain tomorrow morning. He has a substantial compression dressing on the wound with an active drain system that I was not expecting but I have all of the necessary supplies so it should not be a problem once he is able to sit up and let me wrap his chest.
I have been taking photos for my family and friends but have not figured out how to post them on here yet. I don't have FB or IG or any other public photo hosting site so I guess that I will go figure out how to add them to my empty blog.
Here are photos of Bruno
This is the day that we found each other at the East Valley Animal Shelter in Los Angeles 7 years ago
Now living in Thailand and boarding at Najomtien Animal Hospital while daddy goes away to work. The staff are learning how to brush my teeth like daddy does.
The vets and staff all love cuddling with me
Daddy taking a selfie with me after I got sick
These are the week before the big day:
Here I am waiting for my CT scan at the Small Animal Teaching Hospital at Chulalongkorn University in Bangkok
Daddy is making preparations for my recovery at home. He made me a little lawn on the balcony but I really am not interested in peeing on it.
So he tried Astro Turf....still not going to do it but I will catch some rays on it
Day of the amputation:
I just got my pre-anesthesia shot and am feeling sleepy now
6 hours later and its all done
Daddy and Gavin got me into the car really carefully and now I will sleep some more while daddy gets angry at the Bangkok traffic
Made it home after 3 hours and now even more sleep
 About 12 hours after getting home and now I am awake and trying to figure out what is going on...
Just had breakfast and lots of meds and feeling no pain!!
I guess things are ok because I am sleeping like my old silly self

Thanks to all you guys that have been thinking about us as we go through this.

London, UK

Forum Posts: 1513
Member Since:
15 December 2015

Offline
Oh you are doing SO well! What a great Dad. Bruno is so lucky to have you. It's great that he seems so comfortable, you are clearly keeping ahead of the pain and seriously WHAT a handsome boy. Just gorgeous!!! He actually reminds me a bit of my Meg, who is also half Rottie. The other half is certainly not a Mastiff though...
Good luck with the dressing change. I'm sure you'll be completely fine and it will be good for Bruno to have his Dad tending to him. 
Sending all best to you and Bruno. 
Meg, Clare and Elsie Pie xxx
Meg, Mutt, aged around 9, adopted 31/12/2009. Sudden explosive right elbow fracture 06/12 (caused by IOHC), diagnosed with End Stage Arthritis 03/15, Total Elbow Replacement 08/15, problems with healing leading to skin graft & skin flap surgery, Chronic Infection leading to implant breakdown. Became a Tripawd 9th March 2016. 
Lives with Mum, Clare, watched over by Angel Pie and Angel Billie
My life as a MEG-A-STAR 




Forum Posts: 2002
Member Since:
14 February 2016

Offline
He looks great!  And has the sweetest eyes!  Thanks for posting the pictures.  
Otis - 106 pound lab/Dane mix, lost his right front leg to osteosarcoma on Febuary 9, 2016.  Four rounds of carboplatin completed in April, 2016.  Lung mets August 25, 2016.  Said goodbye too soon on September 4, 2016.   Lost his adopted sister, Tess, suddenly on October 9, 2016. likely due to hemangiosarcoma.  
Wherever they are, they are together.

Germany
Forum Posts: 505
Member Since:
14 December 2016

Offline
Rob,
Bruno looks fantastic and I hope you'll get through recovery now without any issues whatsoever! I think what you've managed to do with the circumstances you're in is absolutely amazing!! Bruno could have no better dad!!
all the best and I'm sure I'm not the only one that wants to have picture updates!! 🙂
tina & Manni
Guardian of Manni the Wonderdog. -Or was it the other way around?
Osteo and amputation in Dec 2015. Second, inoperable, primary osteosarcoma found in June 2017.
The end of our adventures came Dec 10, 2017. 2 years to the day.

Virginia


Forum Posts: 16034
Member Since:
22 February 2013

Offline
OMD!!!! I fell in love instantly with that first picture!!!! 🙂 🙂 🙂 And then fell in love again with every single picture!!! 🙂 🙂 BRUNO IS SOOO HANDSOME!! And he looks like such a gentle Soul...so gentle! 🙂
Bruno won the Puppy Lottery when he picked you as his human! He is clearly loved and adored!!!! 🙂 🙂 🙂
Thanks for the update and the GREAT pictures!!! Yiu are taking such good care of yiur sweet boy! EXCELLENT JOB! 🙂
Hugs to all!
Sally and Alumni Happy Hannah and Merry Myrtle and Frankie too!
PS...That "feelin' no pain" photo is priceless! 🙂 And I love his little patio set up! Even if he doesn't pee on it it's a great concept! 🙂
Happy Hannah had a glorious additional bonus time of over one yr & two months after amp for osteo! She made me laugh everyday! Joined April's Angels after send off meal of steak, ice cream, M&Ms & deer poop!

Forum Posts: 56
Member Since:
20 March 2017

Offline
I love, love, love the pictures.  Thanks so much for sending them. Bella had her surgery this morning and we will be bringing her home tonight.  She has been on Gabapentin and Tramadol for several weeks already so I am curious what they will be giving us for her post op. I've heard (and read from this site) Amantadine helps with pain wind up.  I just called them and asked them to consider this. Bella too was a rescue from a kill shelter.  She's 9yrs 5 mos and we rescued her when she was 3.  She was terribly abused but has the most  gentle disposition.  She's just very shy with strangers, so any trip to the vet is traumatic for her.  Please keep posting updates on Bruno. I'm hanging in there and can't wait to get the recovery started.  I need to start thinking more like a dog though...
continued good thoughts to you and Bruno!

Here and Now

Forum Posts: 11354
Member Since:
25 April 2007

Offline
Brenda said
I need to start thinking more like a dog though...
Have you listened to our Be More Dog podcast?
Forum Timezone:
America/Denver
Most Users Ever Online: 597
Currently Online: sessy
88 Guest(s)
Currently Browsing this Page:
1 Guest(s)
Devices Used: Desktop (80), Phone (8), Tablet (1)
Member Stats:
Guest Posters: 1000
Members: 12175
Moderators: 2
Admins: 3
Forum Stats:
Groups: 4
Forums: 23
Topics: 14817
Posts: 208004