Join The Discussion
Learn about life on three legs in the forums below. Browse and search as a guest or register for free to take advantage of member benefits:
Instant post approval.
Private messages to members.
Subscribe to favorite topics.
Join the Live Chat and more!
Best Dog Beds for Tripawds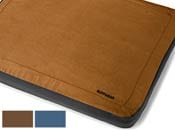 Give Tripawds the comfort they deserve! See which dog beds are best and why.
A
A
A
Hey! It's been a while since I was on here and I realized y'all might be interested in knowing what's up with my little one-legged friend these days.
First of all -guess what? "Una" is a BOY! You'd think after 10 years I'd be better at sexing them...lol nope. I pick gender-adaptable names for a reason. So he's Uno now. I was getting suspicious around last time I posted. He tends to carry his tail low for balance, still hasn't started crowing, but once those sickle feathers grew in, it was obvious.
Anyway, Uno's doing great! He and Mo are young adults now. Most days (when someone's home) they are allowed to free range. 
I have been pleasantly surprised that no one is picking on him, although he's shy. He acts normal enough that he just gets some odd looks when he hops. Mo is his best friend, but they also get along well with their mom and dad and some others.
He loves cuddles. He ends up in funny positions because it gives his leg a break from being sat on. Like this:
(he likes head scratchies.)
(Excuse the pajama pants.)
Up until a few weeks ago, free-ranging was limited because he was developing calluses on his foot. I worry a bit about the big one on his crooked middle toe, but it seems fine so far. We keep it clean. He's gotten more stamina as he's been free-ranging more. Still pretty tuckered by the end of the day, but he's smart enough to know when to rest.
Here's a video. I don't mean to brag, but you see a couple seconds in when he flares his primaries out without any other movement? All slick like a switchblade, lol. Most chickens don't have fine motor control of their wings like that. And you don't see it in this video, but he can run (or speed-hop) in short spurts. Just about the only things he can't do are roost and mate, and neither of those are necessary for him to be happy. I'm very proud of him. 


Forum Posts: 1176
Member Since:
27 July 2014

Offline

Germany
Forum Posts: 505
Member Since:
14 December 2016

Offline
Uno! I am a little disappointed, I have to say. I was rather fond of Una! 🙂 But you look mighty fine in that stylish frock you carry! All grown up boy! And you're every bit as graceful as the rest of our hopping heroes!
thanks for the update uno! You're amazing!!! 🙂
Guardian of Manni the Wonderdog. -Or was it the other way around?
Osteo and amputation in Dec 2015. Second, inoperable, primary osteosarcoma found in June 2017.
The end of our adventures came Dec 10, 2017. 2 years to the day.

Forum Posts: 2002
Member Since:
14 February 2016

Offline
Thanks for the update!  We were wondering, and for me at least, learning so much from watching Uno and Mo grow!
Otis - 106 pound lab/Dane mix, lost his right front leg to osteosarcoma on Febuary 9, 2016.  Four rounds of carboplatin completed in April, 2016.  Lung mets August 25, 2016.  Said goodbye too soon on September 4, 2016.   Lost his adopted sister, Tess, suddenly on October 9, 2016. likely due to hemangiosarcoma.  
Wherever they are, they are together.

London, UK

Forum Posts: 1513
Member Since:
15 December 2015

Offline
Oh gosh, I'm in love. Uno the cockerel! He looks just fantastic, and you are rightly proud of him. I cannot wait for him to start crowing. Do they all crow? Or do you get cockerels that don't? So interesting how he has developed special skills to compensate for the one-leggedness. He is fabulous 

Meg, Mutt, aged around 9, adopted 31/12/2009. Sudden explosive right elbow fracture 06/12 (caused by IOHC), diagnosed with End Stage Arthritis 03/15, Total Elbow Replacement 08/15, problems with healing leading to skin graft & skin flap surgery, Chronic Infection leading to implant breakdown. Became a Tripawd 9th March 2016. 
Lives with Mum, Clare, watched over by Angel Pie and Angel Billie
My life as a MEG-A-STAR 



I was wondering too Christine;) Someone near by us within miles has a rooster crowing and I love hearing him!  
I'm happy to see your update! Uno I love the name. He has turned out to be one handsome guy!
You will have to share Uno and Mo's crowing with us when they start.
I love that Mo & Uno are best friends & he is still a cuddler! He is one unique and special Rooster no doubt he has a purpose in this life!
You should be proud and show Uno off! He is doing wonderful and what a smart Rooster to know when to rest!
It's amazing to see all tripawds or even unopawds have some similarities, they figure it out and what works for them! 
It is a joy to see !! We love your updates ! 
Extra mealworms for Uno & Mo!
Hugs 
Holly & Purrkins


Forum Posts: 5717
Member Since:
21 May 2016

Online
Uno, you are the BEST looking cockerel ever  and we totally adore you 💘
You stole our hearts from day one 🐣 and we SO love to see you grow 🐥 and become the handsome fella you now are 🐔💕
It is clear you love Mommy's cuddles, so cute, great video 🎥
Keep updating, it is always a real pleasure to see your gorgeous boy 💕
Lots of kisses and cuddles flying your way 😘😘😘💕🐔💕
Eurydice 77kg/170lb Great Dane limping end of April 2016, amputation (right front leg/osteosarcoma) 4 May 2016 6 courses of carboplatin followed by metronomic therapy, lung mets found 30 Nov 2016. 3 courses of doxorubicin, PET scan 26 Jan 2017 showed more mets so stopped chemo. Holistic route April 2017. Lung X-ray 5 May 2017 showed several tennis ball size mets, started cortisone and diuretics. Miss Cow earned her XXL silver wings 12 June 2017, 13 months and 1 week after amputation and 6 1/2 months after lung mets, she was the goofiest dawg ever and is now happily flying from cloud to cloud woof woofing away :-) 
Holly, I love that you said you love hearing a rooster crow nearby, that's not the typical response we chicken keepers get!
No, not all roosters crow. The more dominant ones start earlier and crow more; Mo's been at it regularly for weeks now, while Uno is still experimenting just occasionally. I did manage to get both of them crowing together!
As you can see, they got in a little argument at the end. No harm done. Young cockerels learn to give each other space when crowing; you don't see two adults doing that side-by-side, it's a bit of a faux pas. Roosters don't always fight. If they grow up with dads and brothers, they do much better socially.
I do have something I'm concerned about, and that's his feet (or his foot and stump rather). They're holding up pretty well, but he's been free-ranging more, so they're getting more use. (He loves free-ranging.) See:
The calluses on his foot are getting bigger and a bit cracked. There's no way I can straighten out his toe, and anyway I think the calluses would form regardless, but I do want to make sure these don't get infected. No sores at this point. Free-ranging helps keep clean but also increases the wear and tear. You can tell from the difference from last post, he's still growing a lot.
On his stump, you can see there's a small sore. I'm a bit concerned if it's a sore, and more concerned if it's bumblefoot. I've treated bumblefoot before and it's nasty; if this is it, I'm just glad it's not on his foot, because then if it worsened he'd be well and truly crippled. He uses the stump more than you'd think, though, for propping himself up.
Anyway, I don't know that it's bumblefoot yet -it's an odd shape, but so is his stump. If it is a sore, any suggestions on how to treat it? Ointments or something? I'm sure some of you have had tripawds trying to use their stumps and getting sores. I might try a bandage to let it rest without getting more scraped, but I don't know if he'll tolerate it.
Oh -and in case you worried he was uncomfortable while taking these pictures:
Yes, he fell asleep. 

Love the video of them both Crowing OMC you can tell Mo's been practicing a little more then Uno.
That had to be a great moment catching them both crowing at the same time. Not the little fight part. Hopefully Mo will always be partial to UNO.
TOOO cute, I love hearing them!
Sorry to hear other people don't enjoy the crow! I say oh well to them!
We can't please everyone!
What about mushers secret???? A paw protector for dogs? We used to use that on our dog years ago. Bee's wax or coconut oil?? I am sure other's will have more ideas.
No, I didn't wonder if Uno was uncomfortable 🙂 We know you are a great MOM!
Thanks for the update! Keep them coming .
Extra meal worms for the gang!
Hugs Holly & Purrkins


The Rainbow Bridge

Forum Posts: 23393
Member Since:
25 April 2007

Offline
Now that's music to our ears 🙂
Most Tripawds will have uneven wear on their nails, because of their modified gait. I can see why it would be the same for Uno. And hygromas are also common, which can get nasty. The link has info on how to deal with hygromas in dogs. I'm guessing that Mankuna Honey could work if the sore became an issue for Uno. I've seen studies on its effectiveness in other animals like horses so why not chickens too right?
Bumblefoot does sound icky! I hope that's not it. I like the suggestion of trying some Musher's Secret on the callus area. We've seen good results with that one with dogs, I don't see why it wouldn't work for Uno too. Let us know if you try it.

Virginia


Forum Posts: 16034
Member Since:
22 February 2013

Offline
Awww....love getting updates on Uno and Mo! 🙂 🙂 🙂 And when you add pictures it's an extra bonjs!! 🙂
Love the crowing videos! And yes, having a Rooster give his wake-up call when the sun comes up can be a great alarm...except when you wwnt to sleep in!
Uno's getting his own version of a doggy tummy rub 🙂
Hope some of the suggestions help heal his foot. He is so darn cute!
Hugs
Sally and Alumni Happy Hannah and Merry Myrtle and Frankie too!
Happy Hannah had a glorious additional bonus time of over one yr & two months after amp for osteo! She made me laugh everyday! Joined April's Angels after send off meal of steak, ice cream, M&Ms & deer poop!

London, UK

Forum Posts: 1513
Member Since:
15 December 2015

Offline
LOVE THE CROWING!!!!
Been waiting for that, and Uno and Mo did not disappoint!
Ditto the suggestion of Manuka honey. I used that on a pressure sore on Meg and it has powerful antibiotic and healing properties. I wonder if he may need some sort of protector, though, so it doesn't keep happening. Or do you think the skin will toughen up over time? If needed, do you think you'd be able to make him some kind of tiny sock? Do you think he would tolerate wearing that?
Meg, Clare and Elsie Pie xxx
Meg, Mutt, aged around 9, adopted 31/12/2009. Sudden explosive right elbow fracture 06/12 (caused by IOHC), diagnosed with End Stage Arthritis 03/15, Total Elbow Replacement 08/15, problems with healing leading to skin graft & skin flap surgery, Chronic Infection leading to implant breakdown. Became a Tripawd 9th March 2016. 
Lives with Mum, Clare, watched over by Angel Pie and Angel Billie
My life as a MEG-A-STAR 





Forum Posts: 1176
Member Since:
27 July 2014

Offline
Thanks for the advice, everyone. My favorite poultry forum is down right now so I am doubly in need of suggestions right now. (Although I'm fairly certain I'm the only one with a one-legged chicken on there.)
Well, the good news is, I'm fairly certain that the scab on Uno's stump is not bumblefoot. The bad news is, just since I last posted, the biggest callus on his foot peeled off and he now has a bumblefoot infection on that toe. My heart sank when I saw that. Still small though.
I ordered Musher's Secret and we started with that today. Treatment for bumblefoot usually includes Epsom salt soaks, antibiotic ointment, and removing the corns when/if they get large enough, and sometimes some other ointments, but we'll try the basics first. So we added the Musher's Secret after our Epsom salt soak this evening. Those articles are really interesting! Now I'm thinking about wraps/booties and honey. If it kills infection, that would be perfect.
Here he is during the soak. I thought it was hard enough getting the two-legged ones to sit down in a bowl of water! We've had trouble getting the stump low enough, but we finally got it. Even though it looked like I peed my pants by then. 
Here's what I mean about that bumblefoot. The middle toe, see? He lands on that spot pretty hard. I worked with it to see how far I could straighten it out, but he did not like that at all. Wrapping it would probably be more comfortable than a boot. I might try that and see how he tolerates it. 
Since the callus is gone and the bumblefoot's there, I've put Uno in our mini coop for the time being. It's too small for long-term, but I want him to have limited space to move around in. Mo is in there too, partly to keep Uno company and partly to learn that he is not allowed to roost in the grapefruit tree.
 Uno follows Mo around a lot, so hopefully this will eliminate that need and let him rest. 
I would check out the birdy bootie?  We talked about this in the other forum. Uno was too young then. Still might be too young and growing ? I just thought I would bring it back up since, now your dealing with the bumble foot also.  
I copied and pasted some of the info below and the link if you want to check into the bootie. 
Our patented Birdy Bootie protective shoe, designed to provide superior coverage and cushioning for birds with injured feet or bumblefoot (a staph infection on the foot pad or toe,) is made with an anti-bacterial, silver-infused layer over a NeoSponge™ neoprene material that offers superior cushioning.
Our Birdy Bootie is made of high quality materials and with a superior design:
•The sole of the Birdy Bootie is made with NeoSponge,™ a porous, synthetic rubber material manufactured by Acor Orthopaedic, Inc. and used in human orthotics and medical footwear. NeoSponge™ is designed to flex, have great durability, and be resistant to breakdown by water. 
•Our Birdy Bootie contains X-Static® a pure silver fiber woven directly into the fabric. Silver is a naturally occurring element that is used in topical antibacterial creams and ointments - there are no chemicals or fear of toxicity to the bird. X-Static® eliminates 99.9% of bacteria on the material in less than one hour of exposure and the anti-bacterial performance does not diminish over time. In warm weather, X-Static® addresses evaporation by dissipating the amount of moisture in contact with your bird's foot. 
http://www.hens.....ootie.html
Let us know what does help, Heal well Uno!
Holly & Purrkins

Forum Timezone:
America/Denver
Most Users Ever Online: 597
Currently Online: eurydice, paws120, tm2018
72 Guest(s)
Currently Browsing this Page:
1 Guest(s)
Devices Used: Desktop (64), Phone (9), Tablet (2)
Member Stats:
Guest Posters: 1000
Members: 12175
Moderators: 2
Admins: 3
Forum Stats:
Groups: 4
Forums: 23
Topics: 14816
Posts: 207980