Join The Discussion
Learn about life on three legs in the forums below. Browse and search as a guest or register for free to take advantage of member benefits:
Instant post approval.
Private messages to members.
Subscribe to favorite topics.
Join the Live Chat and more!
Help Tripawds Everywhere!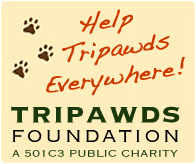 Help all amputee pets and their people with a charitable contribution to the Tripawds Foundation.
A
A
A
Thanks for the update!
Glad to hear your all doing better , Mimi is good and Jimmi is being himself again;) ! More Valerian tea for you;)
Jimmi is pain free and happy 🙂
Great thinking on Jimmi's teeth! Sure makes sense. Good to know!
Very routine procedure and your in great hands ,Jimmi will do great!
Sending lots of pawsitive energy for Tuesday ,Jimmi's cleaning and lung cat scan etc!
Take care of yourself and your furry family!
Love and Hugs to all!
Holly & Purrkins 


Minneapolis, MN
Forum Posts: 644
Member Since:
23 April 2016

Offline

Hi, Bettina and Jimmi:
I've only just notice you made it to Tripawds - this is Lisa Marie Pasquale from Gina's Penguin FB Group - I had posted the Tripawds link for you when Jimmi was diagnosed.  Unfortunately, my own dog was losing his cancer battle at that time and I was here a bit less.
So happy to see how well Jimmi is feeling - remember that is the most important thing.  Lovely seeing such great pictures of Jimmi and the other cats and the buns!
Lisa
Lisa, Minneapolis
On October 27, 2016, nearly 6 months after amputation, and 18 months since his cancer likely started, we lost Pofi to a recurrence of Soft Tissue Sarcoma in his spine quite suddenly.  His Daddy and I miss him terribly along with his canine sister, Mia, and two feline siblings, Lucia and Cliff.
Hi Everyone!
First off I want to apologize for not being on for so long. We had some horrid news about my Dad's coming in (brain metastases) and organizing his treatment plan and all totally consumed me, I was all beside myself.
Lisa Marie, to you my heartfelt condolences for the loss of your your sweet one. I'm so so so sorry to read Pofi has lost his battle.
I am so grateful you sent me the link back then and kept my fingers crossed for you. So saddened to hear this news.
If you like please connect with me on FB.
Jimmi had another cat scan last week and the scan showed that he got some more of those micro metastases. He has one larger one and now about 7 little spots around this larger one. While he came out of his anesthesia they gave him his first chemo with Doxorubicin and he took it so very well. They told us side effects can occur withing 48 hours post chemo, but he didn't show any side effects at all.
He was really happy to be back home, bounced back into playing, eating and chatting straightaway.
On december 27th he will get his next chemo round.
I cannot tell yet if it shows any effect as we have to wait for the next scan. One scan costs about €200 why we cannot do one after every chemo and we didn't schedule the next one yet. The vet recommended to do one after the third round of chemo again.
But so far I can tell he's doin' really fabulous, no coughing, no fatigue, nothing. He doesn't seem to feel anything of the metastases at all. He's all himself again and really enjoys his life as Tripawd like he did enjoy life before. We have no regrets and would definitely do it again!
His hair grows back extremely slow but this is a cosmetic issue only and bothers neither him nor us.
On the bottom on his belly and on his flank he has some thin fuzzy hair, but on his back he has some spots that are still almost naked. I cannot tell why, maybe he's grooming it off a little. He loves to camp in front of the fire place to keep his little velvetly butt warm.
I promise I'll post some pictures soon!
Again - I'm really sorry for being so absent. Please know how grateful I am to be here, you are all in my thoughts daily, I just was a bit overwhelmed in light of the drastic events in our human family.
Lots of love to you all and belly rubs to all your little ones 

Bettina
Bettina and Jimmi! It IS good to hear from you, but I'm really, really sorry you and your Dad are having these unfortunate challenges. I know he feels very fortunate to have you as his daughter...and Jimmi as his Grandson!
To hear how well Jimmi is doing just warms my heart!! To know your brave and courageous decision to amputate has given Jimmi extended QUALITY time is such a beautiful thing to see!!
And to know he's handling his chemo so well is more good news!
As we've mentioned before, Jimmi doesn't care about days on a calendar and he sure doesn't give a
about what any ole xrays show. Jimmi is feeling fine and all is well in his world!!
Keep on spoiling and loving and spoiling some more! Stay in the moment and make eeveryday JIMMI DAY!! And the same applies to yiur Dad! Make everyday DAD DAY!!
And take time for yourself too, okay?? Sit with Jimmi by the fireplace as he "warms his velvety butt", have some tea and just enjoy "being"!
Love
Sally and Alumni Happy Hannah and Merry Myrtle and Frankie too!
Happy Hannah had a glorious additional bonus time of over one yr & two months after amp for osteo! She made me laugh everyday! Joined April's Angels after send off meal of steak, ice cream, M&Ms & deer poop!
Hi Bettina and family,
We are so sorry to hear about your Dad! Please, no apology needed!  We all understand too well. 
Sending you the biggest of hugs! 
Seems life hits us hard all at once, hang in there and keep fighting for your Dad, Jimmi,your family and YOURSELF !
Glad to her Jimmi is doing so well with treatment and no side effects ! YEAH Jimmi he is paving the future for other kitties!
Thank you for sharing his story here, he will help others too some day ! 
Try to live each day and not look into the future, no one knows what that is! Its not easy but try ok.
Will keep you and your family in our thoughts and prayers .
Give you Dad and Jimmi and the furry family hugs from us too please!

Holly & Purrkins


The Rainbow Bridge

Forum Posts: 23090
Member Since:
25 April 2007

Offline
Oh my gosh please don't apologize, promise. Now is the time to focus on your Dad and your family. We'll always be here for you and Jimmi.
That is pawesome he had no effects from the chemo! I love the way you describe his playful nature, what a great kitty!
By the way, we are so grateful you are sharing your journey with us. It gave me the kick in the pants to put this post together, and I'm so grateful that we were able to let folks know about Jimmi in it, so that others can be helped in the future. Thank you. xoxo
Hi everyone!
Yet again I want to apologize for not being on lately and want to say THANK YOU to Jerry for linking to our story 


I hope what we can report will help many others in the future.
We had a rough holiday season spending new years eve in the ER after my Dad collapsed and afterwards, after fighting cancer so brave eventually entered the palliative ward. Currently taking each day as it comes here, a very difficult time, but also filled with gratitude for how amazing, caring and professional the doctors and nurses are. Our Dad is calm and feels no pain or fear.
Very very grateful for this.
One day after christmas eve we lost my husband's grandmother ... 2016 who was so hard for many, had another hit in the stomach for us in its pocket. Hence the reason why I was so absent.
At least I can only report GOOD regarding Jimmi.
He had his second round of chemo and except the ride to the vet, which he hates and loudly let us know, he was such a good boy and very calm during the procedure.
As soon we arrive at home and open the carrier he's always super happy to return home and I'm so happy to report that his blood work came back excellent and he has no side effects at all.
The vet told us he CAN experience nausea, but the opposite seems to be the case. He is eating so well and tries to eat everything that isn't nailed on. Begging during lunch and dinner and even when my husband had a glass of apple cider and tasted the foam his eyes followed his finger from the glass to my husbands mouth like "Dude! Is that something I can eat???"


(No cider foam for Jimmi, just saying).
He's so so playful, chatting, eating, watching the snow falling down from his favorite window spot and all in one is a really happy kitty.
Next tuesday he will have his third chemo round and of course we hope it all stays as awesome as it is.
Our Bunnies and Cats, like always, are such a blessing in this difficult time. They bring so so much joy into our house and always remind us there is still something that warms our hearts and makes us smile.
I love them all so dearly.
Here is hoping that all of you had wonderful holidays and that all your loved ones, two-legged, three-legged and four-legged are well.
Lots of love to you all - here some pictures of our gang inspecting the christmas tree.
Bettina

Here and Now

Forum Posts: 11272
Member Since:
25 April 2007

Offline
Thanks for the great update!


Forum Posts: 1161
Member Since:
27 July 2014

Offline
It's wonderful to hear how well Jimmi is doing! Absolutely wonderful!
But I am soooo sorry to hear about the challenges your Dad faces and then the loss of your Grandmother. One day at a time....and make each day count.
You have a beautiful tree and a beautiful cats and bunnies under that tree!! ,
So glad Jimmi has a good appetite and the chemo hasn't been hard on him at all! 🙂 He is wuite the inspiration for any seniors starting thus journey.
Thanks for taking the time to update us. And thanks for the great photos! You certainly have your paws full!
Hugs!
Sally and Alumni Happy Hannah and Merry Myrtle and Frankie too!
Happy Hannah had a glorious additional bonus time of over one yr & two months after amp for osteo! She made me laugh everyday! Joined April's Angels after send off meal of steak, ice cream, M&Ms & deer poop!
Thank you all SO MUCH! Specially for your understanding and sympathy.
Logged in today and couldn't believe I didn't post any update for so long. In stressful times days FLY BY.
Thankfully this didn't interrupt the report on Jimmi, cause when it comes to him there were no changes or events, happily I can tell the last month he simply was a really happy cat that lead a normal relaxed life and we hope it stays that way.
The only thing I forgot to mention is that some butt-fluff is slowly growing back 

 It took quite a while, we started to think he'll play in team pant-less forever from now on 

I don't know if this is important info, but the vet decided to give the chemo infusion one time in his front leg and one time in his remaining hind leg, switching every round to prevent any potential irritation.
His kidney levels are great why the vet recommended to still give him a little dose of Metacam every second day for additional meta-prevention.
He shows no side effects to this, either.
We feel very lucky and would definitely do it all again!
Curious to see the result of the next scan. Due to the costs (about 220 €) we'll wait another 2 chemo rounds until he gets the next one done, what - according to the vet - is the usual frequency.
Bettina,
NO APOLOGIES ok! We need no apologies!  My heart goes out to you and your family. 
We are so sorry for the loss of your husbands grandmother ! Your Dad collapsing and in palliative ward.
I'm glad Dad is comfortable, non the less its gut wrenching to say the least.
Jimmi 's looks fantastic his story will no doubt help others ! Other kitties will follow Jimmi's lead.
So glad to hear Jimmy is doing so well and chemo is not bothering him! Happy, relaxed, Jimmi you go buddy!😻
Our furry families are no doubt a blessing and gifts to bring us joy and help us thru life challenges .  
Purrkins fur took a full 6 months to get back in and its still not 100%. Jimmi will get his full pants back!😉
Love all the photos ! Your fur family is the perfect Christmas picture! Your Christmas tree is beautiful !
Your 2 guys and gal don't climb the tree? We cannot do a large tree without having 2 cats climbing in it:) I think with age that will change LOL will see.👀
We do a mini tree and I still have to secure it to the wall ,otherwise it gets pulled down. Our guys see a bunch of shiny toys dangling😼
Thank you for the update and photos! So happy that Jimmy is hoping on & doing so well!
Chin & ear scratches to the fur family!
We are sending you the biggest of hugs and extra strength!
Holly & Purrkins


Forum Posts: 2000
Member Since:
14 February 2016

Offline
So sorry to hear that you are going through so much with your family.   What a difficult time!   But so glad that Jimmi is doing well!
Otis - 106 pound lab/Dane mix, lost his right front leg to osteosarcoma on Febuary 9, 2016.  Four rounds of carboplatin completed in April, 2016.  Lung mets August 25, 2016.  Said goodbye too soon on September 4, 2016.   Lost his adopted sister, Tess, suddenly on October 9, 2016. likely due to hemangiosarcoma.  
Wherever they are, they are together.
I thank you all so much for your kind words 

We rescheduled Jimmi's third chemo. My Dad peacefully passed away on the 14th.
We've been up for two nights afterwards and so was Jimmi. And we simply were not able to go to the appointment, either.
Our vet was very understanding. We'll go on thursday.
Am I allowed to say FUCK CANCER here?
I'll be ok, I have a lot support from family, friends and my wonderful husband.
But.....it incredibly hurts.
Bettina
Oh Bettina, we are so saddened to hear you Dad has transitioned. So many of us here believe that, when the earthly body fails, the Soul decides it's time to exit onto another pain free dimension. Some believe the Soul heads to the Bridge to reunite with the dogs and cats who have gone before them. Did your Dad have some special furbabies he would have a joyful reunion with if he headed to the Bridge?
Just know that your Dad will always be watching over you and Jimmi, along with your husband's Grandmother. Quite a powerful group of Guardians y4iu, your husband and Jimmi have!
And yes, we agree completely with your sentiments on that piece of crap disease!
We, your "other family", are here to help support you through this sad time for you.
Love
Sally and Alumni Happy Hannah and Merry Myrtle and Frankie too
Happy Hannah had a glorious additional bonus time of over one yr & two months after amp for osteo! She made me laugh everyday! Joined April's Angels after send off meal of steak, ice cream, M&Ms & deer poop!
Forum Timezone:
America/Denver
Most Users Ever Online: 597
Currently Online: revsully, bentleymac
45 Guest(s)
Currently Browsing this Page:
1 Guest(s)
Devices Used: Desktop (44), Phone (3)
Member Stats:
Guest Posters: 993
Members: 11815
Moderators: 2
Admins: 3
Forum Stats:
Groups: 4
Forums: 23
Topics: 14629
Posts: 205565