Join The Discussion
Learn about life on three legs in the forums below. Browse and search as a guest or register for free to take advantage of member benefits:
Instant post approval.
Private messages to members.
Subscribe to favorite topics.
Join the Live Chat and more!
Tripawds Jewelry & Art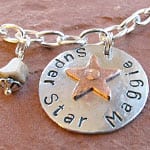 Visit our Etsy Store for custom pendants, charms and unique handmade gifts!
A
A
A
Hi all
It's been a while. Life's been hectic but Harry and I have settled nicely into tripawd-ism, and I wanted to pop by and do an update. This past Saturday was six months since Harry became "Three-legged Harry" (what my four year old nephew calls him now:P) and I often forget that he's any different. He is less eager to get up on high things, and consistently uses his stairs for his preferred places, and is slower than he was (unless he's running), but otherwise he's just Harry - which is so great to be able to say! I think it took me longer to recover, emotionally, than it took him to physically recover. 
We had our first road-trip back to my parents' a couple of weeks ago, and he was fine with the trip and thrilled to his his "grandparents" as usual. It was a bit tough for them at first, but they were blown away by how well he gets around (it took him a few tries to figure out how to manage the backs of their squishy couches - which has always been a favourite spot at theirs - but he was a pro by the time we were ready to leave. Ditto for the stairs to the basement).
He is FINALLY beginning to shed some weight, after we switched to Weruva foods - they're not "diet" but the ones we're using are lower calorie than the diet one from the vet and the ingredients seem like actual food-things. 
I have noticed the occasional twitch in the muscles on his right (amputated) side lately, but I'm assuming this is just a muscle spasm thing...
And now for some pictures 🙂
(Don't worry, he stays in his cage while we're driving. We just stopped for a lunch and pee break - it's a LONNNG drive)

Forum Posts: 938
Member Since:
27 July 2014

Offline
Three Legged Harry (love that name) looks great, even svelte. I'm happy to hear that he's back to being himself. 
I suspect the front leg tripawds have learned not to go up too high unless they know they have a safe way to get down. Mona went up high a few times after her amputation then seemed to only choose places where she had a way to go down. They are smart. 
I like the photo of Harry posing as an apple 

Scratches for Harry the black beauty.
Kerren and Tripawd Kitty Mona

Virginia

Forum Posts: 13294
Member Since:
22 February 2013

Offline
GREAT UPDATE AND ADORABLE PI TURES!!!
Way to rock three legs Harry! 🙂
Yeah, the twitching of the "stump" area is pretty normal. Sou ds like Harry is right on track for a recovery from the surgery.
Glad Harry was able to visit his Grandma and Grandpa and e hoy the couch! 🙂
Thanks for the update and the precious pictures! Love the one of him looking out the rear widow:-)
Hugs
Sally and Alumni Happy Hannah and Merry Myrtle and Frankie too!
Happy Hannah had a glorious additional bonus time of over one yr & two months after amp for osteo! She made me laugh everyday! Joined April's Angels after send off meal of steak, ice cream, M&Ms & deer poop!
Harry looks great I can see he has lost weight ! Good for you guys! It so not easy with cats! You do have to find something that works and you have. Trial and error.
We never had success with the RX diet either fyi. I do think everything varies per animal.
We are counting calories and that is working for us.
You would never know he is a Tripawd kitty in most of the pictures!
Glad you guys were able to see your parents and Harry showed them yep I'm ok Grandma and Grandpa!
That is great Harry is using his steps & not climbing high!
Purrkins always uses his steps too.
I wish Purrkins would not climb so high he is still going up on the cupboards when we do not block off the kitchen🙄
I do take the blame, because we do rescue him and help him down for our own sanity!
Purrkins also has the twitch on and off also. Does not seem to bother him. I wonder if that goes away at some point? Guess we will see.
Thanks for the update, love hearing all is going great!
Chin & ear scratches to Harry
Hugs!
Holly & Purrkins

(Kerren does Mona twitch her stump ?)

Forum Posts: 938
Member Since:
27 July 2014

Offline
Holly - Mona doesn't have a stump because she also had her scapula removed. I don't recall twitches that Harry and Purrkins have but at times when Mona would be walking/hopping she would stop and a ripple would go down her body like she has readjusted her spine and she'd continue walking.
Another thing that Mona did in the early months was spin in circles when she was laying down and got up very quickly. My massage therapist describe this as normal and she would stop spinning and she has. I think I continued to see changes up to a year later as she adapted to 3 legs. One thing that hasn't changed is that she still bonks my big male, who looks like Harry, on the head.
Cuddles for all the kitties,
Kerren and Tripawd Kitty Mona
Kerren - My wording was wrong 🙄 Purrkins also had his scapula removed , It is a muscle twitch of some kind. Purrkins never did do the spinning in circles. I'm happy to say, I would of been upset to see that!
The twitching has decreased we are at 9 months now. Maybe the one year mark it will stop twitching, I will ask for Harry and Purrkins when we see Dr. Matt again. I will post back here with the answer so we all know;)

Thank you!

The Rainbow Bridge

Forum Posts: 21781
Member Since:
25 April 2007

Offline
Three-legged Harry is the coolest! A road-tripping three-pawed ambassador showing the doubters what a Tripawd Kitty can do. YAAAY! I'm so happy to see things are good.
Weurva is a great food! I had the chance to meet the company reps at a conference, they are a small company and very dedicated to making the healthiest cat food. I'm glad to see it's benefited Harry with pawsitive weight loss. He looks GREAT!
Good job, keep on hoppin!
Thanks everyone! I hope you are your furry friends are still doing awesome as well. Yes, Jerry, I did a bit of research before trying it out, and it seems great (and is actually slightly less expensive than the vet stuff). The awesomest part is that some of it actually looks and smells palatable ...which is unheard of in my experience with cat food, lol. The "paw lickin' chicken" is Harry's favourite 😛
I'm just so happy to be able to report that he's doing great and, like Kerren (I think it was) said in the early days, I appreciate him so much more now and focus more on the present when I'm hanging out with him. 😀 
So I asked Dr Matt about the twitching the other day - what we are seeing is the pectoantebrachialis muscle.
In short -The brain is still sending signals to the arm that is not there.
Causing the twitching.
With Purrkins anyway it has never appeared to be painful, looks involuntary, just like a jerking sensation.
This could go on for their lifetime. Nothing to worry about. Why it happens in some and not others? Of course I thought of that after we left so??? I will ask in July the traditional Vet.
Hope You & Harry are doing well!
Hugs !
Chin & ear scratches to Harry!

The Rainbow Bridge

Forum Posts: 21781
Member Since:
25 April 2007

Offline
WOW! I love that fact Holly, thanks for sharing.
Yes, Wyatt still has those twitches and he's 7 years post-amputation. No big deal, he doesn't even notice.
Forum Timezone:
America/Denver
Most Users Ever Online: 597
Currently Online: hester, giantsquid, Ashley, henrysmami
80 Guest(s)
Currently Browsing this Page:
1 Guest(s)
Devices Used: Desktop (65), Phone (17), Tablet (2)
Member Stats:
Guest Posters: 957
Members: 10140
Moderators: 2
Admins: 3
Forum Stats:
Groups: 4
Forums: 23
Topics: 13696
Posts: 189791