Join The Discussion
Learn about life on three legs in the forums below. Browse and search as a guest or register for free to take advantage of member benefits:
Instant post approval.
Private messages to members.
Subscribe to favorite topics.
Join the Live Chat and more!
Tripawds Jewelry & Art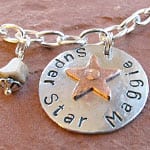 Visit our Etsy Store for custom pendants, charms and unique handmade gifts!
A
A
A

Forum Posts: 121
Member Since:
4 October 2016

Offline
When I first got Chance's diagnosis of Osteosarcoma (exactly one year and 2 days ago), I poured over all the documentation I could find about the disease. One thing I searched a lot was "what causes osteosarcoma in dogs?". Most of what you find are the following explanations:
* Large breed dogs are 'prone' to it 
* A site of a previous healed fracture 
* Exposure to carcinogens 
* Genetic predisposition 
Now that Chance is gone, I find myself obsessing over that search again. Finding nothing new of course. And I get disheartened when I read about how many dogs have to go through this. Is anyone out there doing the research on the WHY? I know that UC Davis was doing a drug trial for an Osteo treatment for dogs. But again this treats after the fact. And I read that there is a 'vaccine' of sorts in the works... but it is also given after amputation and diagnosis. 
I hope I live to see this dumb disease eradicated. 

Forum Posts: 328
Member Since:
26 January 2017

Offline
Rocky limped (for literally a day before it cleared up) for years before the OSA diagnosis. I suspect his was a fracture that didn't heal right. 
I've thought about posting about his specifics though because, like you, I think about it a lot since Rocky went to the Bridge. 
Screw this disease. I really hope we find a cure soon. 
David and Rocky (and Baxter now too!)
Rocky had his right front leg amputated on Valentine's Day 2017 after being diagnosed with osteosarcoma.
He joined the September Saints on September 3, 2017.
He is the toughest, bravest, sweetest and best friend I'll ever know. 

The Rainbow Bridge

Forum Posts: 23385
Member Since:
25 April 2007

Offline
 Is anyone out there doing the research on the WHY?
I know this question can make you crazy thinking about it. We have seen osteosarcoma in dogs and cats that aren't 'supposed' to get it (for instance, our Jerry was a mutt, and this disease is supposed to be more prevalant in pure breed dogs). We've seen it in every kind of dog from Chihuahua on up in size. Young, old, you name it. It's so random, and heartbreaking.
The fact is, there are soooo many variables that contribute to cancer, that instead of trying to answer it from a 10,000' foot view (like a needle in a haystack), scientists are trying to answer it from the ground floor via comparative oncology trials. This important research is working to determine what cancer therapies help stop cancer from spreading in pets and people, and at the same time understand why those certain therapies are working. Once they know that they can look at the bigger picture of how to prevent it in the first place. In a way it's like working backwards to find the starting point of an all-out cure for different cancers. At least, that's my non-scientific explanation.
Here are two suggestions that may help you grapple with this. Whatever conclusions you draw, know that you did nothing wrong with Chance's health, you did all you could for that sweetie. I hope these help.

Virginia


Forum Posts: 16023
Member Since:
22 February 2013

Offline
Tha ks for your well articulated out explanation Rene.  It makes sense

Happy Hannah had a glorious additional bonus time of over one yr & two months after amp for osteo! She made me laugh everyday! Joined April's Angels after send off meal of steak, ice cream, M&Ms & deer poop!

Forum Posts: 5679
Member Since:
21 May 2016

Offline
Thank you Rene, I think that pretty much sums it up beautifully !
Sweet Patricia, I was also given the micro fractures explanation as a most likely scenario but in the end truth is we don't really know what caused our adored babies to develop this piece of the crappest crap disease 💩💩
We gotta have faith and wait for scientists and researchers to find a cure, like Rene pointed out. 
It is marvellous that research is being so actively done all over the globe!
It will be too late for 💕Chanceypants 💕and 💕Eurydice 💕 but I am sure they will be cheering madly from above the day their furry pals can be cured!
Oh, and the vaccine you mentioned: Archa's Mom told me they are using it in Canada.
At the end of the day Rene kindly explained to me it is actually a serious of immunotherapy injections administered after Osteo is present.
The same exists in Portugal for limphomas.
I know two dogs that went through that process, one (a Great Dane) did not complete the treatment, she earned her wings after dose 3 😔 but the other (an Afghan Hound) completed the treatment and is completely cancer free and in the most marvellous health and good humour 😄
I, like you, feel extremely personal about Osteo and am very, very interested in knowing as much as I can about it.
Let's keep exchanging all info we can and keep our fingers crossed something significant will develop asap 🤞🏼🤞🏼🤞🏼
Sending you a HUGE 🐻 HUG and tons of cuddles to all fluffies and pawrents 😘😘😘🐮💫✨🌟🌹
Eurydice 77kg/170lb Great Dane limping end of April 2016, amputation (right front leg/osteosarcoma) 4 May 2016 6 courses of carboplatin followed by metronomic therapy, lung mets found 30 Nov 2016. 3 courses of doxorubicin, PET scan 26 Jan 2017 showed more mets so stopped chemo. Holistic route April 2017. Lung X-ray 5 May 2017 showed several tennis ball size mets, started cortisone and diuretics. Miss Cow earned her XXL silver wings 12 June 2017, 13 months and 1 week after amputation and 6 1/2 months after lung mets, she was the goofiest dawg ever and is now happily flying from cloud to cloud woof woofing away :-) 

Forum Posts: 121
Member Since:
4 October 2016

Offline
Thanks for the links. I admit I do have a lot of time on my hands these days as I'm not working and basically sitting around waiting for our baby to arrive (due date 10/15). So maybe that has something to do with my obsessive research. Part of it also stems from, 'what can I do next time to avoid this?' I want to learn as much as I can! 
Maybe I should have been a scientist! I'm glad to know that some research is being done.. to hopefully one day help both humans and dogs. Cancer in any form is a terrible disease and I know there won't ever be a one solid answer as to the whys and hows. But I am hopeful that I will see some answers and progress in my lifetime. 
Thanks friends, 
-Patricia 

Forum Posts: 5679
Member Since:
21 May 2016

Offline
Eurydice 77kg/170lb Great Dane limping end of April 2016, amputation (right front leg/osteosarcoma) 4 May 2016 6 courses of carboplatin followed by metronomic therapy, lung mets found 30 Nov 2016. 3 courses of doxorubicin, PET scan 26 Jan 2017 showed more mets so stopped chemo. Holistic route April 2017. Lung X-ray 5 May 2017 showed several tennis ball size mets, started cortisone and diuretics. Miss Cow earned her XXL silver wings 12 June 2017, 13 months and 1 week after amputation and 6 1/2 months after lung mets, she was the goofiest dawg ever and is now happily flying from cloud to cloud woof woofing away :-) 
Forum Timezone:
America/Denver
Most Users Ever Online: 597
Currently Online:
68 Guest(s)
Currently Browsing this Page:
1 Guest(s)
Devices Used: Desktop (56), Phone (11), Tablet (1)
Member Stats:
Guest Posters: 1000
Members: 12161
Moderators: 2
Admins: 3
Forum Stats:
Groups: 4
Forums: 23
Topics: 14806
Posts: 207864