Join The Discussion
Learn about life on three legs in the forums below. Browse and search as a guest or register for free to take advantage of member benefits:
Instant post approval.
Private messages to members.
Subscribe to favorite topics.
Join the Live Chat and more!
What Is The KillBarney Tour?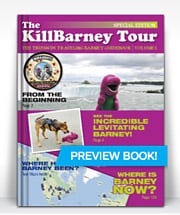 Get the KillBarney Tour Book for photos and stories of Tripawds members around the globe!
A
A
A
Hello everyone, HELP! We have an almost 9 year old GSD, Rayna who was positively diagnosed with osteosarcoma a week ago by primary vet and then by an oncologist Wednesday August 16th. There is no evidence of metastasis yet by x-ray and she has only been limping a few weeks. He recommended that standard of care is amputation followed by chemotherapy.
Our number 1 goal for Rayna is to have the best quality of life no matter what quantity we are blessed with, which of course we hope is a long time. We think we want to go the route of homeopathic therapy to help keep her as comfortable and happy as we can. Does anyone have any experience doing a homeopathic treatment? What sort of time did it give you? Did you amputate as well or just treat? 
We have been finding so much information with all different routes of treatment and we are trying to decide what is best. There is not a lot of evidence out there that discusses homeopathic remedies and their results as there is with chemo.
The other huge question we have is whether or not to do the amputation. It sounds like it gives immediate pain relief and may help extend life. 
Any experience shared is greatly appreciated and especially any advice with amputation and homeopathic medicine would be amazing! We are of course trying to react quickly to give us all the best chance of more treatment options.
Thanks everyone in advance!
Heather, momma to Rayna the wonder dog 

The Rainbow Bridge

Forum Posts: 23385
Member Since:
25 April 2007

Offline
Hi Heather and Rayna, welcome. We're sorry that you are coping with the diagnosis but glad you found us. We'll do what we can to help you on your journey.
First, keep in mind that a dog who is limping is already in excruciating pain. An animals' instinct to survive is so strong that they will do whatever it takes to hide pain. When they show it, things are pretty bad (especially when it comes to Shepherds). So it's critical that you start managing that pain today, while you decide what course of treatment to take for the cancer. What pain medication is she on right now?
Regarding homeopathic pain remedies. Are you referring to using this type of medicine to treat her bone tumor pain, right now, before amputation? If so, I'm not a vet, so take this for what it's worth. But, according to the American Animal Hospital Association's current Pain Management Guidelines for Cats and Dogs:
Homeopathy
Incontrovertible evidence that homeopathy is effective in either human or veterinary medicine for the treatment of pain is lacking.
Sole reliance on homeopathy to treat a painful condition is in essence withholding pain treatment. Thus, the guidelines Task Force discourages the use of homeopathy for the treatment of pain
I am a big believer in natural medicine, and we write about it frequently in the Tripawds Nutrition blog . But I don't believe in using it at the expense of quality of life or withholding known treatments that work. If she isn't already, please get her on strong pain medication asap to alleviate pain before amputation. Remember, her tumor is eating away at the bone and this is one of the most painful conditions modern medicine, either human or vet, deals with. Not even the strongest conventional pain medications (i.e., Fentanyl, morphine) can manage the pain well enough to last more than a few weeks.
If you are referring to using homeopathy to treat the cancer once you amputate, then do check out the Tripawds Nutrition blog and search for the phrase, we have lots of helpful articles about it. 
There is not a lot of evidence out there that discusses homeopathic remedies and their results as there is with chemo.
You are correct. It is all anecdotal as you will see when looking through our articles. It's really a leap of faith that has worked well for some and not so much for others. There's nothing wrong with going that route as long as you do it under the guidance of a trained homeopathic vet and understand that statistically speaking, other treatments give better odds at longevity. 
It sounds like your oncologist and primary care vet have given her the green light for surgery. That's great! She sounds like she's in good health. What are your concerns about amputating that we might be able to help address? There are many GSDs who have done well as Tripawds, including our own Tripawds Founder Spirit Jerry, who lived two years after his osteosarcoma diagnosis (and we opted out of chemo, so you never know!).
I hope this helps. I'm in the Tripawds Chat room for a bit this morning then later today if you want to talk. Feel free to call the Tripawds Helpline too OK? Stay tuned for feedback from others.

Durham, NC
Forum Posts: 406
Member Since:
16 September 2015

Offline
I can't wait to see a photo of Rayna, I bet she's a looker!
I'm so sorry that she's been diagnosed with OSA ... it's a crappy disease but as Jerry pointed out, dogs can live a good, long time after amputation. I really struggled with the decision to amputate for my dog as she was already pretty old at nearly 12. That said, I'm really glad I did it because I got to spend nearly 2 more years with her. Like Jerry's pack, I didn't do any chemo for the OSA and we "outlasted" all the survival estimates.
Jerry is 100% correct on the pain management ... you'll need some heavy hitters to keep sweet Rayna comfortable. OSA hurts like hell. It sounds like you are considering leaving the limb and just treating the pain? If that is the case, just keep in mind that the progression of the disease will likely result in a broken bone at which time you'll either have to amputate or let Rayna go. Many of us (like me) discovered the OSA because of a break ... my Izzy was running home through the back yard to get dinner - she'd been visiting her Golden Retriever boyfriend Max - and went down like a ton of bricks in the woods. You're so fortunate to have discovered this before she got to that point!
Amputation sounds so scary - I was petrified! - but dogs are so resilient. I know there's also a big financial consideration so you might check your area to see if there is a low-cost clinic. I drove 2 hours from home so that I could afford Izzy's amputation and am so glad I did it.
We're here to help, whatever you decide!
Amy & my pretty angel bulldog, Izzy 

Momma to the world's most beautiful American Bulldog, Izzy!! Lost her front leg to OSA 9/18/15. Diagnosed w MCT in June 2016. Celebrated her 1 year ampuversary with knee surgery on 9/18/16! MCT recurrence in Dec 2016. Happy & hungry til nearly 14, earning her wings on 7/31/17.
It took me a few minutes to figure out how to change my profile image but that is our sweet Rayna on the left and her litter mate Skyler on the right with our 5 month old in the middle!
I was slightly mistaken when i said homeopathic, I did mean holistic. I was afraid that taking a leg from her would be traumatic but as all of you have shared your stories here they seem to do so well bouncing back. She has a slight limp and I do understand that is her starting to show signs of pain and that breaks our hearts. I think that we have decided to move forward with the amputation that we have schedule to give her the best chance at being pain free. We are going to use holistic medicine to help with her care after surgery. She is on previcox so far and I have received prescriptions for Gabapentin and Tramadol which I will also start her on while we wait for her surgery on the 31st.
I have an appointment with a holistic vet here on Monday so hopefully he will also be able to shed some light but while opting out of chemo what are some other things to pay attention to or to try? Want to be as natural with her as possible. I was going to start making my own dog food for both girls as just a start. Supplements, other pain medications? By doing the surgery do we still need to follow the same pain regimen or do that not need the same kind of pain relief?
As shown here, dogs are amazing creatures and their will to live is remarkable, just want to give our sweet girl a chance!
Thanks so much for the continued advice and support.
Heather and Rayna

Here and Now

Forum Posts: 11352
Member Since:
25 April 2007

Offline
Be sure to check out the Tripawds Nutrition blog for many helpful tips, homemade dog food recipes, supplement suggestions, and much more!

Livermore, CA


Forum Posts: 3089
Member Since:
18 October 2009

Offline
Hi and welcome.
I don't have direct experience with OSA, my pugs had mast cell cancer and oral melanoma.  I'm glad you have become comfortable with the idea of amputation.  I now how drastic it seems when presented as an option.  When my vet told me Maggie would need to lose her leg I was stunned- I don't think I heard anything else my vet said during that visit. 
As far as chemo vs holistic... I dealt with three cancers in my two pugs- Maggie had mast cell which lead to her amputation, and later oral melanoma.  Quad pug Tani also developed recurring mast cell cancer.  I chose to do chemo with Maggie after her amputation but chose to holistically treat Tani's mast cell cancer.  I did not really treat Mag's oral melanoma- she was dealing with lots of medical issues by then.
Maggie's chemo was supposed to get us 6 to 9 months- Maggie blew that out of the water- she lived almost 4 years and passed because of the oral melanoma.  Was it because of the chemo?  I think it was because after her amputation cancerous cells were found in the lymph node removed with her leg, a really bad scenario in mast cell cancer as the lymph system is one of the places that cancer goes. In the end there is really no way to know why she lived so long after her amp and chemo.  I am convince though without the amputation she would not have lived so long- I removed the cancerous leg and gave her a chance.
Quad pug Tani had lots of medical issues and when her mast cell cancer came back at age 11 (her first tumors were diagnosed 1 week before Maggie's last chemo!) I decided that the traditional chemo recommended for treating her type of mast cell was not the right thing for her.  I worked with a local holistic vet who helped me develop a good diet (to help with all her issues) and prescribed some herbs to help her fight the cancer.  Tani lived to almost 15 and did not pass from mast cell cancer.  Of course in hindsight I made the right decision for Tani, but even if she had not lived so long I know the route I chose was the best for her.
My recommendation would be to talk to an oncologist in addition to a holistic practitioner so you know what all the treatment options are. I took Tani to our oncologist when her mast cell came back and listened to what the standard treatment options were.  I asked questions and got all the information on side effects, stats and so forth.  It did not alter my decision not to pursue chemo, but I felt like I was making my decision taking everything into consideration.
Keep asking questions! I didn't have much time to prepare for Maggie's amputation, I learned as we went along.  There is a ton of information and support to be found here- take advantage.  There is nothing like leaning on people who have been down the path you are just starting on.
Karen and the Spirit Pug Girls
Tri-pug Maggie survived a 4.5 year mast cell cancer battle only to be lost to oral melanoma.
1999 to 2010

Durham, NC
Forum Posts: 406
Member Since:
16 September 2015

Offline
Oh! I should have mentioned that Izzy took K9 Immunity Plus for the first year or so after amputation (maybe 15 months?) and then I switched her to Armor-Up when they released it ... has all the goodness of K9I+ and more! I believe it's all-natural - I know it's mushroom based? - and I have some extra on hand that I'd be willing to send your way if you'd like to try it before you shell out the cash. Izzy passed (old age) a couple weeks back now and my other dog doesn't really need it.
Let me know if you'd like me to send some. You can print out info for your vet if you want their opinion first (see http://www.k9me.....o-for-vet/). 
LOVE the photo! 

Momma to the world's most beautiful American Bulldog, Izzy!! Lost her front leg to OSA 9/18/15. Diagnosed w MCT in June 2016. Celebrated her 1 year ampuversary with knee surgery on 9/18/16! MCT recurrence in Dec 2016. Happy & hungry til nearly 14, earning her wings on 7/31/17.

Livermore, CA


Forum Posts: 3089
Member Since:
18 October 2009

Offline
Oh yeah!  Tani took K9 Immunity Plus also for several years.  I don't know for sure if it helped with the cancer but I do know for sure that it helped with her energy level which helped with her overall well being. 
When I first started with the holistic vet she asked me to take Tani off of the K9 Immunity so she could judge the effectiveness of the other things we were doing (I think that was the reason). There was a noticeable decline in her energy level after a week or two.  After discussion with the vet I put her back on it and her energy came back.
Karen
Tri-pug Maggie survived a 4.5 year mast cell cancer battle only to be lost to oral melanoma.
1999 to 2010

Forum Posts: 121
Member Since:
27 September 2016

Offline
Welcome to Tripawds Heather and Rayna! You have certainly come to the right place to get information and support in dealing with OSA. The support I got here was invaluable- I don't know how I would have managed without it. Everyone has to make their own decision about what they feel is right for their dog. After all, you know Rayna better than anyone. All we can do is share our experiences, the good, and and the ugly, but at least you are armed with knowledge and information when you talk to the specialists.
FWIW, I chose amputation and chemo. For me, I felt that, if I didn't pursue amputation, the bone pain (and I am in the human medical field and can tell you bone pain is the absolute worst and almost impossible to control completely) and increasing risk of fracture at the cancer site would force me to euthanize my Fionn far sooner than if I did the surgery. The thought of him fracturing the leg terrified me. The ONLY cure for the pain is amputation. I opted for chemo to try and extend his life with the caveat that, if he had ANY serious side effects, we would stop. In addition, I put him on a low carb diet, K9 Immunity Plus and CBD capsules from Canna Pet.
You'll get a wide range of survival times based on different treatments. These are averages, and there's a whole lot of dogs and cats here who clearly didn't hear the vet and were/are way above average! Read the blogs and forum posts and you will quickly see there really isn't any sort of timeline. I can tell you that we did 4 chemo treatments and 1 lung metastasis was found a month after finishing. Fionn was then given 1-2 months- he lived 5 months from that day and did not die from his cancer. As a matter of fact, while there were 2 more very small mets found before he passed, none of them were at all significant and he would have likely lived much longer. Was it the diet and the supplements? Who knows, but they certainly didn't hurt! 
Please keep sharing your journey here on Tripawds. We all get very attached to the cyber pets we meet here.
Best wishes,  Nancy and angel Fionn

Nancy- mom to the FABULOUS Fionn. He rescued me in 2015 when he was 6. 
Right front leg amputation at age 7 for osteosarcoma 10/6/16. Taken too soon 6/12/17. Read about our journey here:
http://fionnsjo.....pawds.com/
Rayna is scheduled for her surgery this coming Thursday the 31st! Cannot wait as she is definitely experiencing a little more pain and is not wanting to get up and move around as much even though her spirit isn't broken. I love that wagging tail and all she wants to do is chew bones!
Any advice for caring for her when she first comes home or anything that I should get in order to help her? I want to be as prepared as I can be to make her transition coming home as easy as possible. I am not even sure how long she will be staying in the hospital, I know at least a day but could be up to three.
Thanks in advance and the support here as been monumental in helping us cope and make our decisions!
Heather and Rayna

Here and Now

Forum Posts: 11352
Member Since:
25 April 2007

Offline
hgeller said
Any advice for caring for her when she first comes home or anything that I should get in order to help her?
Yes, plenty!
Review the various FAQs, and refer to Jerry's Required Reading List for lots of helpful links. Or, consider downloading the Tripawds e-books for fast answers to most common concerns, and feel free to call the toll-free Tripawds Helpline anytime!
You can also use the Advanced Search above to refine your forum search results with specific phrases to find topics addressing specific concerns. You can also search all blogs here .

Forum Posts: 11
Member Since:
14 July 2017

Offline
I have very little to add except to wish you and Rayna good luck and to wait for the next post along with everyone else. My boy Orlando, a GSD mix, "only" had to lose a toe to melanoma and has just begun the Oncept vaccine. However, the majority of my dog ownership has been with GSDs and I have faced various genetically linked conditions. I just want to say that knowing GSDs, their loyalty and their desire to do whatever their owner wants....including their desire to keep you happy....it is almost impossible to judge pain levels by observation until they reach a drastic point. In my opinion, amputation is/was absolutely the right decision for Rayna and I do believe that she will recover from it after reading various accounts on these boards.
Forum Timezone:
America/Denver
Most Users Ever Online: 597
Currently Online: Michelle, dobemom, henleygirl
63 Guest(s)
Currently Browsing this Page:
1 Guest(s)
Devices Used: Desktop (58), Phone (8)
Member Stats:
Guest Posters: 1000
Members: 12161
Moderators: 2
Admins: 3
Forum Stats:
Groups: 4
Forums: 23
Topics: 14806
Posts: 207870