Join The Discussion
Learn about life on three legs in the forums below. Browse and search as a guest or register for free to take advantage of member benefits:
Instant post approval.
Private messages to members.
Subscribe to favorite topics.
Join the Live Chat and more!
Tripawd Heroes Book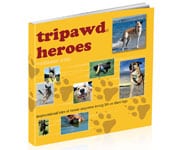 Tripawd Heroes books feature inspirational stories and photos of dogs loving life on three legs!
A
A
A
Hello, I have a little 8 pound Longhair Chihuahua, she could stand to lose a little weight LOL. I was playing with her and she fell off my bed about 5 months ago and completely broke all four of her toes on her front foot. I feel so bad and I'm having a hard time not blaming myself since I was playing with her. I would have never thought that broken toes could lead to an amputation. The Vet has been trying to get the toes to mend with a splint, we looked at the X-rays today and its not going well at all, the bones are not mending together, so now the vet has said that amputation would be her best option. Pinning was suggested but the vet didn't feel like that would work either, at least not now anyway due to the severity of the break and may not have worked if we had done it at the beginning but she would talk to the orthopedic surgeon. But when the orthopedic surgeon came in last time and saw my little girls previous X-rays he gave her until the end of August to heal but didn't feel pinning would help at that time, he was leaning more towards amputation then, but was willing to give her more time to see if she would heal, that was 6 weeks ago, and the X-rays today didn't show any improvement. So even though her Vet said she would talk to him I'm afraid I will still get the same answer. Her Vet said they would take the whole leg shoulder area and all. Im not sure how many amputations her Vet has done I know she's been a Vet for a long time and she has another dog that belongs to a friend of hers that she is doing soon, but theres not any over night staff, do most get to go home the same day? Is it best to take the whole thing? If she has to stay overnight Im more than likely going to have someone else do it that has over night care. Any advice would be helpful.
Stacy
Hi Stacy, I'm sorry to hear about your pup and the accident. What's her name?
Please don't blame yourself, accidents happen and I know your girl doesn't blame you at all. Move forward as best you can and stay pawsitive, it's all she wants.
My main question is, have any of the vets discussed a partial amputation? She sounds like a good candidate for a prosthesis if you are willing to invest the time and money in one. With so much of the leg still being good, she sounds ideal for an artificial limb if you're up to the training time and cost. These OrthoPets interviews tell more about artificial limbs for animals.
If your current vet does not have overnight care then you will either need to bring her home the same day, or transfer her to a 24/hour clinic and then pick her up in the morning and return her to your vet. Many people choose the first option because 24/hr care just isn't an option for them and that's OK. Better she's home with you than alone all night. It can be challenging that first night, but not impossible. We can all walk you through that if you decide to go that route.
Regarding her weight. No matter which option you choose (full or partial amputation) it is imperative that she drops the weight asap. Any extra weight, especially on a small breed, front leg amputee, is extremely detrimental and leads to problems down the road. Please check out our weight loss tips for help with this important step.
Also please check out Jerry's Required Reading List , you'll find lots of feedback there too. Stay tuned, more will chime in!
Her name is Roxy and I did mention the use of a prosthetic today and her Vet was going to talk to the Orthopedic surgeon and see what our options are there, Im not sure how costly it is but my Mom is willing to help, I do work long hours but my son is home all day and is capable of taking care of her. She's lost some muscle mass since being in the splint so long, her little leg looked so thin today. We have been working on her weight she was at 9 and dropped to 7 and now that she hasn't been able to move around a lot she's gained some back, she is on a special food to help with weight loss. I will research more on the use of a prosthetic and cost, she's been using her splint pretty much like one when she goes to potty.  Thank you.
Awww Roxy is lucky to have you guys looking out for her. Staying slim is SO important for Tripawds. Good job staying focused on that!
I'm glad you mentioned the prosthesis option to the vet, good job! Let us know what they say OK? Keep us posted.

Forum Posts: 9
Member Since:
14 July 2017

Offline
Orlando's third right digit was amputated a week ago due to melanoma. I chose to have the surgery at a specialty animal clinic that had more highly trained doctors and an overnight staff.  That may not be an option for  you if there is not one convenient to your location.  I trusted my vet to have done a toe amputation although she freely admitted that she did not do amputations on a weekly basis; however, due to his other health conditions we both felt that we wanted him to have the best care available.  In your case, I would definitely not leave Roxy alone overnight anywhere either. Orlando was required to stay overnight after the procedure and he came home the next day, very out of it between the Duragesic patch and the tramadol.  It might be a little upsetting to see your dog right after an amputation but I do think that the experts on the boards here could give you a lot of advice...and she is small enough to move which might be a big consideration in bringing her home yourself.
I am assuming that Roxy has a hard splint like Orlando does now on his foot and leg. If she had adapted to that she might be fine with a partial amputation and prosthesis. Very hard to make these decisions.....
Im taking Roxy to a consultation at a surgical center to get another opinion on Wednesday 08-02, our usual vet talked to the mobile surgical specialist about Roxy case and he said if amputation wasn't an option he would just take the splint off and due to her size she would eventually adapt, well now I am really confused, she has four broken toes, to what capacity would she adapt? I guess the failure rate to surgical pinning of toes is high? I don't know, I do know Im going to do whats best for her, that will give her the best quality of life. Also the surgical center I am considering has overnight care, I wouldn't have it any other way. Thanks in advance for any advice, Ill let you know what the surgical center says is our best options.
I'm glad to hear you're getting another opinion. Is the new vet an orthopedic specialist? If so that's who I would want to be talking to. I know that if I had to "adapt" to four broken toes that would be pretty painful so I'm imagining it would be for a dog too. Roxy's so lucky to have you being so thorough about her situation. Let us know what they say OK?
UPDATE..The surgical Dr said to take off the bandage and give Roxy small sessions a day starting out with just a couple of minutes and working our way to more time she is only allowed to walk on it while supervised. So we picked her out a crate for her to be in when not being held. Because if Roxy can she will do too much at once. Also let her do the swim motion in the tub. Which we did for a couple of minutes, so i could clean up her bandage sores. She did ok with it. Unfortunately ... There's not enough bone to be successful if we pinned it, too much time has passed. She might adapt to it so that's what we are trying for a month to see if we can build muscle and hopefully she will be able to walk on it. The Dr wanted to give her the opportunity to sink or swim if it doesnt work and if she can't adapt then amputation is next and she would take the whole leg she said most dogs use their prosthetic as a chew toy. But she didn't want to jump right into amputation with out trying to see if she would adapt first. It's very scary because her bones are so tiny and she doesn't have any muscle mass so it really looks fragile. Does anyone know of any supplements I can give to build muscle mass and promote bone growth? I didn't think to ask the Dr. Please keep us in your prayers as well.

Here and Now

Forum Posts: 11218
Member Since:
25 April 2007

Offline
stacy said
Does anyone know of any supplements I can give to build muscle mass and promote bone growth? 
Yes, but we always recommed consulting with a certified rehab vet/tech for a professional evaluation and the best recommendations for your specific dog...all dogs and their needs are different. Visit a CCRT or CCRP and the Tripawds Foundation will even pay for your first consultation from the Maggie Moo Fund for Tripawd Rehab!
For more reviews and recommendations, search the Tripawds Nutrition blog . Use the Advanced Search above to refine your forum search results with specific phrases, and you can also search all blogs here .

Wyoming, NY
Forum Posts: 11
Member Since:
29 July 2017

Offline
Oh I am so sorry to hear what the two of you are going through. 
Definitely consult with your specialist on any supplements you should be giving and also pain management for her. I would also find out about any rehab opportunities in your area. This could help her regain muscle mass I would think.
Let us know how your little girl is doing when you can.
Forum Timezone:
America/Denver
Most Users Ever Online: 597
Currently Online: paws120
53 Guest(s)
Currently Browsing this Page:
1 Guest(s)
Devices Used: Desktop (45), Phone (8), Tablet (1)
Member Stats:
Guest Posters: 989
Members: 11580
Moderators: 2
Admins: 3
Forum Stats:
Groups: 4
Forums: 23
Topics: 14530
Posts: 204358