Join The Discussion
Learn about life on three legs in the forums below. Browse and search as a guest or register for free to take advantage of member benefits:
Instant post approval.
Private messages to members.
Subscribe to favorite topics.
Join the Live Chat and more!
Looking For A Harness?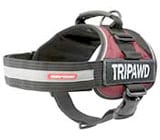 Shop Tripawds Gear for the best harnesses for three legged dogs!
A
A
A
Forum Posts: 2
Member Since:
11 September 2017

Offline
Cissy is a chocolate lab that has been missing her front left leg since before we got her in 2010 or so. She has always moved around fine...even enjoyed playing fetch and running after squirrels in the back yard. This morning after my mom let her outside, she came back in and fell down. We couldnt get her to walk. At one point I carried her outside and supported her back end with a towel. She wouldn't move. I removed the towel and she stumbled a few steps, then started peeing. Her injured leg, the back left, couldnt support her and she fell over and continued peeing on the ground. We got her into the vet. He felt her leg and compared it to the other. He said there was a big difference in the knees and that she had a partial or complete tear of the ccl. He said we could try anti-inflammatories and if it helped, then consider a tplo procedure. If not, we might have to discuss euthanasia. Cissy weighs 62 lbs and my parents have various health problems and cant possibly help her move around when she has to potty. Ive done some searching online, but when you Google "what to do when a tripod hurts a leg", 90% is about 4 legged dogs hurting their legs and needing amputation. We just tried to help her go outside again, and she wont move. She didnt react with pain this morning when i was feeling her foot/leg. The vet didnt get any reaction either. He said she might not react because of the situation of being up at the vet. I dont see much info on front leg amputees with ccl problems. Just took her out again. She wont move with the towel. Took it off. She fell. But then she managed to stand and move a bit, then tried peeing and fell again while peeing. Then she got up and made it all the way back inside. It's painful to watch. I know she has to go #2 as she hasnt gone all day. Sorry for the length. Just wondering about 2nd opinions. The vet seemed very nice, but this was our first visit with him. No xrays were taken. We are to report back in a day or so on how the rimadyl is doing.

The Rainbow Bridge

Forum Posts: 23238
Member Since:
25 April 2007

Offline
Hi CissysPal, welcome. Your future posts won't need approval so post away. Please come join us in the Tripawds Chat room right now if you'd like.
Meanwhile, I'm sorry about your pup, I can tell you're worried and I can't blame you. That would be very upsetting to me too. Is she on pain medication? It sounds like she should be. Remember that dogs don't show pain until it really really hurts. See this article for details:
To answer your question, YES, get a second opinion from an orthopedic specialist, ASAP. Before doing any kind of procedure you want to make sure that it's what you are indeed dealing with. If you'd like help locating one, let us know the city where you live and we can help you find a good orthopedic vet. Just please make sure she is on pain medication until then. 
The good news is there are many Tripawds here who have needed cruciate repairs done and they recovered from the procedure. It's not an easy recovery but it is possible. Here's an article that may help you with information about what to expect:
I hope this helps. Stay tuned for feedback from others. And please keep us posted on your pup OK? We hope she can get some help quickly and start to feel good again.

Durham, NC
Forum Posts: 406
Member Since:
16 September 2015

Offline
Hi Cissy and family!
My front amp Izzy - who was nearly twelve when she lost her leg to OSA - celebrated her one year "ampuversary" with a CCL repair. At the time, she was roughly 60 lbs and we discovered the issue because one day, much like your pup, she just couldn't walk. She had some "floppy foot" going on as I like to call it, so at first, we thought maybe it was neurological. She also would kick out the affected leg when trying to walk so I wasn't really sure what was going on.
After the family vet had to look at her we took her over to the Specialty Hospital where her oncology team and listed the expertise of their surgeon who confirmed that it was, in fact, a CCL rupture.
Initially, she recommended a tplo as that really is the gold standard surgery for that type of injury. It makes the knee much more stable and, from what I understand, is an easier recovery than just a regular old repair. That said, Izzy was already an old dog and wasn't super active. The tplo surgery was also far more expensive then doing the "low rent" repair. After talking it over multiple times with the surgeon, she agreed to do the basic repair surgery which, in a younger or more active dog, would have higher risk of failure than the tplo. She did warn me that the recovery would be more difficult, which seems completely counter-intuitive, but proved true. Izzy had an easier time with her amputation then with the knee repair and supposedly, the TPLO would have been a smoother recovery.
Cissy can still enjoy life on three legs, even with a knee repair, but she will need help with walking and going potty in the interim. I would recommend getting a sling that might be a little less intrusive than the towel. Now, Izzy was able to get from point A to point B just fine but obviously, couldn't stand or squat to urinate. Her solution was to go *very fast* because, when you're running, your feet barely touch the ground anyhow. My funny old girl managed to run to her dinner bowl every night using only two legs! That said, I still insisted she allow me to help her so we put a stop to all that running once we had a diagnosis. Dogs who injure the CCL in one leg often windup with the same issue in the other so I was just trying to minimize the wear and tear.
I'm happy to discuss further if you wish or answer any questions you have. I don't know how old Cissy is but that might impact which repair you should choose. The tplo is supposed to be a fairly straightforward recovery but Cissy will definitely need some help for a little while.
We are here to help! Wishing you and your pup the best!
Amy & my big, beautiful bulldog in the sky, Izzy

Momma to the world's most beautiful American Bulldog, Izzy!! Lost her front leg to OSA 9/18/15. Diagnosed w MCT in June 2016. Celebrated her 1 year ampuversary with knee surgery on 9/18/16! MCT recurrence in Dec 2016. Happy & hungry til nearly 14, earning her wings on 7/31/17.
Forum Posts: 2
Member Since:
11 September 2017

Offline
Hi. Thanks for your replies. Cissy is around 7 or 8. When I was working at a doggy day care, she would go to work with me and play all day. Then I was out of work for awhile. Then I got another job at a doggy daycare. She only went up there once. She played and ran for maybe an hour. It was too hard on her and she could barely walk for days. That was over a year ago. Now, if she fetches the tennis ball more than a few times, she will go sit by the sliding glass door, wanting to go in. So, she's not real active. She will chase squirrels that are running along the fence. Her favorite thing to do is to lay upside down on the grass and wiggle. We did have some progress this morning. I carried her outside and set her on the grass. I again tried supporting her with a towel. She seems freaked out by it. I removed it and she kind of tried to move around and fell. I helped her up after she layed there for a minute. Then she hopped off and managed to go poo. I never thoughtI would be excited to see a dog poo! The injured leg was shaky, but she didnt fall. But then she went to another area to pee. She then fell. I guess because her stance is different, the leg won't support her when she has to pee. When I see how she labors to move around, I just worry about the stress the 2 remaining heslthy legs are under. We did have a special harness for tripawds, but we cant find it. She seems so nervous when im trying to help her stand. Ive had two other family dogs that had the knee surgery. They went potty with my help. But, they had all 4 legs. When we got Cissy, she was a rescue that was being housed at my work. The story was she was surrendered by her owners because thry couldnt afford the emergency vet bill. Supposedly she was injured by a lawn mower. But there is some question if that is true. I can imagine the fear a dog that has lost a leg has when another leg is hurt and being messed with by a vet must be high. My mom has called the vet Cissy normally goes to for a second opinion. We live in Plano, Tx. Thanks again for your replies.

Durham, NC
Forum Posts: 406
Member Since:
16 September 2015

Offline
Any news on Cissy? There may be another thread going - I didn't search so I do apologize if there is!
Momma to the world's most beautiful American Bulldog, Izzy!! Lost her front leg to OSA 9/18/15. Diagnosed w MCT in June 2016. Celebrated her 1 year ampuversary with knee surgery on 9/18/16! MCT recurrence in Dec 2016. Happy & hungry til nearly 14, earning her wings on 7/31/17.
Forum Timezone:
America/Denver
Most Users Ever Online: 597
Currently Online:
84 Guest(s)
Currently Browsing this Page:
1 Guest(s)
Devices Used: Desktop (83), Phone (1)
Member Stats:
Guest Posters: 997
Members: 11961
Moderators: 2
Admins: 3
Forum Stats:
Groups: 4
Forums: 23
Topics: 14712
Posts: 206721