Join The Discussion
Learn about life on three legs in the forums below. Browse and search as a guest or register for free to take advantage of member benefits:
Instant post approval.
Private messages to members.
Subscribe to favorite topics.
Join the Live Chat and more!
The Tripawds Library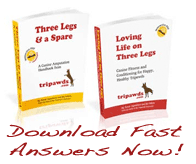 Download Tripawds e-books for fast answers to common canine recovery and care questions!
A
A
A

Forum Posts: 1
Member Since:
5 December 2016

Offline
Hi all!
I'm a fairly new tripod mom. My dog, Rubble, had his leg removed in November after a long time of living with a severely damaged leg. He came to us from a shelter down south and not much is know how he hurt it in the first place. All we know is that he has a much better quality of life without it. He's an absolute love bug who loves all people and dogs. Other dogs didn't mind him either, especially with his sometimes "over-eager" greetings (he doesn't really know how to dog). Lately, though, every dog we've come in contact with has growled at him right away as soon as he gets near. It's the weirdest thing and we have no idea why it happens. So I guess that brings me to my question: are the other dogs able to sense there's something different about him? Or is it more likely something else that's setting them off? I'm about to board him for 2 weeks at a daycare facility and, although they've yet to report an issue, I'm still a little hesitant that this new development will be an issue and I won't be able to do anything about it! Has anybody else encountered this?

The Rainbow Bridge

Forum Posts: 23090
Member Since:
25 April 2007

Offline
Hi and welcome! What a great life you are giving Rubble, he sure deserves a loving pack like yours. Lucky dawg!
Many people wonder about whether or not other dogs know that a Tripawd is different. Honestly, I've encountered enough situations with our Jerry and Wyatt Ray to know that no, they don't notice. I really thought they would when Jerry lost his leg, but nope. As for Wyatt, he can be so overwhelming that most dogs only notice what a freakazoid he is. They haven't a clue he's a Tripawd.
What I have realized though, is that dogs are better at sensing feelings and emotions that we humans project out into the world. As pet parents of these "special needs" dogs we can sometimes feel like Mama Bear and want to protect them from the bad things in the world. Maybe other dogs get this, and feel our nervousness when we encounter new situations? Honestly I don't know. But I do believe in the theory that animals mirror our emotions and what we project, they reflect back.
Odds are when Rubble goes to day care, things will be totally fine. He'll fall in line with the pack and they will accept him without the interference of our silly human emotions. And really, I would be more concerned that the day care people would allow him to get too much playtime in and over-exert himself. Be sure to let them know that he needs very limited activity and shouldn't be allowed as much free roaming as the other dogs. Even though he lost his leg in November, he's still not going to have the endurance that four-leggers do, and should take breaks more often than the rest of the pups in day care.
I hope this helps. Stay tuned for feedback from others!

Los Angeles, CA
Forum Posts: 3552
Member Since:
13 June 2013

Offline

I would agree with what Jerry said - dogs might be reacting to the owners own energy that is being put out. Now my tripawd was never around others so I don't know if dogs looked at her different or not (she never did daycare or parks since she was fighting cancer).
My new dog - a quadpawd - has been around tripawds at parties and everything and I have not noticed her reacting any different. Me, I am always like, be careful... they only have 3 legs! LOL ... but there is an active tripawd lab at her daycare that I hear plays and runs just like the others. I do know they ensure that tripawd does rest more and are careful with their playtime.
Welcome! 
Shelby Lynne; Jack Russell/Shiba Inu mix. Proud member of the April Angels of 2014.
October 15, 2000 to April 8, 2014
Our story: Broke rear leg in June 2013 - non-conclusive results for cancer so leg was plated and pinned. Enlarged spleen in September 2013 and had it removed and was diagnosed with Hemangiosarcoma and started chemotherapy. Became a Tripawd January 8th, 2014 and definitive Hemangiosarcoma diagnosis. Three major surgeries in 7 months and Shelby took them all like a champ only to lose her battle to cancer in her brain. We had 8 amazing extra months together and no regrets. #shelbystrong #loveofmylife

Forum Posts: 250
Member Since:
23 June 2016

Offline

Forum Posts: 2000
Member Since:
14 February 2016

Offline
Once Otis got through the recovery period, Tess treated him exactly the same.  They were obviously a family, but I didn't see any difference in their relationship.
Otis - 106 pound lab/Dane mix, lost his right front leg to osteosarcoma on Febuary 9, 2016.  Four rounds of carboplatin completed in April, 2016.  Lung mets August 25, 2016.  Said goodbye too soon on September 4, 2016.   Lost his adopted sister, Tess, suddenly on October 9, 2016. likely due to hemangiosarcoma.  
Wherever they are, they are together.

Germany
Forum Posts: 505
Member Since:
14 December 2016

Offline
While I doubt that all the growling is because your dog only has three legs, I don't agree with the others 100%. Manni has two "girlfriends" that he sees almost every day. When we met them (seperately) for the first time after amputation each of them reacted differently than usual - but only from afar and only until they realized it was Manni. Both of them kind of hesitated a second and it was as if they had to assess the situation first. After that it was all tail wags again. Other dogs, however, have not been any more of a problem than they were before.
I have noticed that Manni does more of the growling now then he used to and I have to ask myself a similar question: has he gotten more insecure? is it his age that makes him grumpy now? Or is it my fear that his big ego will get him in trouble with the bigger dogs and he won't be able to handle himself well in a fight with only three legs?
difficult. maybe you can talk to a dog trainer? somebody who ideally knows a lot about dogs' body language and behavior?
Guardian of Manni the Wonderdog. -Or was it the other way around?
Osteo and amputation in Dec 2015. Second, inoperable, primary osteosarcoma found in June 2017.
The end of our adventures came Dec 10, 2017. 2 years to the day.

Forum Posts: 313
Member Since:
26 January 2017

Offline
Rocky hasn't seen his buds (my parents' dogs) in more than two months. I'm planning on taking him over for a visit tonight, and I'm kind of curious to see how they all react. But honestly, I don't really expect there to be any difference. 
David and Rocky (and Baxter now too!)
Rocky had his right front leg amputated on Valentine's Day 2017 after being diagnosed with osteosarcoma.
He joined the September Saints on September 3, 2017.
He is the toughest, bravest, sweetest and best friend I'll ever know. 

Forum Posts: 313
Member Since:
26 January 2017

Offline
Wasn't able to get pictures, because I couldn't get all three of them to stay still long enough. Rocky ran in and they greeted him just like always. One of my parents' dogs kind of sniffed where Rocky's leg used to be, but otherwise business as usual.
David and Rocky (and Baxter now too!)
Rocky had his right front leg amputated on Valentine's Day 2017 after being diagnosed with osteosarcoma.
He joined the September Saints on September 3, 2017.
He is the toughest, bravest, sweetest and best friend I'll ever know. 
YAAAAAAAAAY!!! 🙂 Glad to hear the reunion went delightfully well! 🙂 🙂
Thanks for the happy update!! Big grin on my face!
Hugs!
Sally and Alumni Happy Hannah and Merry Myrtle and Frankie too!
Happy Hannah had a glorious additional bonus time of over one yr & two months after amp for osteo! She made me laugh everyday! Joined April's Angels after send off meal of steak, ice cream, M&Ms & deer poop!

Oshkosh, WI
Forum Posts: 17
Member Since:
16 February 2017

Offline
I was in a tight spot and had to take Darla (25 days post amp) with me, to spend the night at my G/F's house. That, in itself, isn't anything new, but knowing that three dogs that she's never met were going to stopping over the next morning was a tad unsettling to me.
Judy, her daughter and her daughters B/F, and their 3 dogs were on a charity walk, the whole crew was stopping in after for breakfast. So all 18 legs stormed in the door, and the quad paws sort of surrounded Darla for a meet and great, with 4 tails 'a' wagging. (Sorry no pics). Now I have nothing to compare them to, but I had heard all 3 were high energy, and after the meet and greet, all 3 toned it down and were very respectful to Darla. Judy said that the 3 of her daughters dogs were as well behaved as she'd ever seen.
Admittedly, they'd all just returned from a 5K walk, so they weren't at peak energy levels, but I saw all 3 storm in, and flip a switch, after they met Darla. I dunno, maybe it's what I wanted to see, who knows.
That's my 2 cents.

Forum Posts: 250
Member Since:
23 June 2016

Offline
Forum Timezone:
America/Denver
Most Users Ever Online: 597
Currently Online: dcjack, eurydice, bentleymac
62 Guest(s)
Currently Browsing this Page:
1 Guest(s)
Devices Used: Desktop (56), Phone (8), Tablet (1)
Member Stats:
Guest Posters: 993
Members: 11815
Moderators: 2
Admins: 3
Forum Stats:
Groups: 4
Forums: 23
Topics: 14629
Posts: 205564