Join The Discussion
Learn about life on three legs in the forums below. Browse and search as a guest or register for free to take advantage of member benefits:
Instant post approval.
Private messages to members.
Subscribe to favorite topics.
Join the Live Chat and more!
Tripawds Jewelry & Art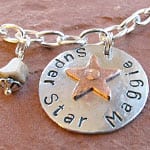 Visit our Etsy Store for custom pendants, charms and unique handmade gifts!
A
A
A
Northern CA
Forum Posts: 314
Member Since:
23 December 2008

Offline

This morning we helped Wrigley run freely to the bridge- it was with great sadness, but also with peace knowing Jerry and all the other tripawd pals would greet her on the other side.
Last weekend Wrigley had develeped a large "knot" on the back of her neck, and also started showing signs of having trouble walking and her neck and head began tilting to the side. After a trip to the vet, it was concluded that most likely the cancer had spread to the base of her spine/brain. Although it was not common, it was not unusual- and as we found out when Wrigley failed chemo after only 2 treatments, she was not taking the "common" route in this journey. We tried to stretch some more time with Predinose, but ultimately the cancer took over and she was unable to support herself on her legs at all. We slept by her side all night and she was visited this morning by many of the people that love her, then we released her from this awful battle she was fighting. She wagged her tail til the very end. She was a true warrior.
Knowing Jerry and all the other tripawd heroes would be there to greet her brought us great comfort in letting her go on-
Thank you to all our tripawd friends for your wonderful support throughout this journey- we really would have been lost without you.
With Much Love,
Seanne ( and spirit Wrigley)
Forum Posts: 737
Member Since:
28 May 2008

Offline
Seanne - my heart just breaks for you, I know you're handling this with all the grace and strength in the world. I can't imagine that I would be able to post anything on the day...
Wrigley is a true hero and fighter and she will continue to be that way in heaven...a leader of the pack. She had such guts fighting this nasty, nasty disease..and so did you. It took her body, but it didn't take her soul or her spirit - or yours. One for our team. I hope one day we will win the battle.
Grieve gently and in your own time, have peace in your heart and know that we love you.
Heather and Zeus.
Heather and Spirit Zeus - Our life changing journey…from the earth to the heavens…one day at a time…always together
Northern Indiana
Forum Posts: 356
Member Since:
15 January 2009

Offline
Seanne,
I am so sad to hear your news about Wrigley. She is free from pain and cancer tonight. I admire your strength & courage. Just wanted you to know that I send my love & prayers.
Gineej & Paris
Grateful for every moment we had with Paris…..no regrets!
Honoring her life by opening our hearts & home to Addy!
My heart lives at Rainbow Bridge
Forum Posts: 3768
Member Since:
28 November 2008

Offline
I am so saddened for you Seanne. I can't help but shed a tear or two for our fallen warriors and their humans. Your strength comes through in your writing, a wonderful tribute to your love and support for Wrigley. The many happy memories will bring you peace as your sadness begins to heal.
Run free, sweet angel at Rainbow Bridge.
Shanna & Spirit Trouble ~ Trouble gained her wings 3/16/2011, a 27 1/2 month cancer survivor, tail wagging. RIP sweetheart, you are my heart and soul.  Run free at Rainbow Bridge.
The November Five - Spirits Max, Cherry, Tika, Trouble & Nova. 11/2008 - 3/2013 An era ends as Queen Nova crossed the Bridge.


Here and Now

Forum Posts: 11088
Member Since:
25 April 2007

Offline
wrigley said:

... we really would have been lost without you.
---
Many here would say the same thing about you. Wrigley's spirit shall live on forever here where your posts will surely help others through their own difficult situations. Thank you for your continued support. Wrigley was a fighter and is our hero. Peace.
The Rainbow Bridge

Forum Posts: 22458
Member Since:
25 April 2007

Offline
Dear Spirit Wrigley,
Our hearts are so heavy for you and your family right now. We are so very sorry.
My Mom is trying to stop crying. She knows how it always upset me to see her this way. So, she's trying to stay strong for me and for you, in honor of your courageous life.
Seanne, you are incredibly strong yourself, for being able to share this news with us today. We are deeply honored.
It makes my pawrents happy knowing we will play together forever, like puppies again. Our spirits will never, ever leave our pawrents side. If they look and listen carefully, they'll see us shine in all the beauty in the world.
Many, many hugs to you Seanne and Family. Thank you for being a part of our community.
Rene, Jim & Spirit Jerry
Sacramento
Forum Posts: 52
Member Since:
2 March 2009

Offline
Forum Posts: 59
Member Since:
13 January 2009

Offline
Seanne,
I'm so very sorry to hear about Wrigley. My thoughts and prayers are with you and Wrigley this evening. I commend your courage for being able to keep us updated during this difficult time. Wrigley was such an inspiration to us, and fought the good fight. She is now free and out of pain, and left this world knowing that she was loved and cared for deeply. Thank you for sharing her with us.
Orange County, CA
Forum Posts: 1185
Member Since:
28 November 2008

Offline

Forum Posts: 28
Member Since:
10 March 2009

Offline
Livermore CA
Forum Posts: 684
Member Since:
24 January 2009

Offline

Seanne, my heart breaks for you. You and Wrigley were our special friends and almost neighbors--I'm so so sorry that the dreaded day came so soon. May you and your family and Rookie find comfort and rest in knowing that your friends here and everywhere support you and grieve with you.
Mary and Cemil
Cemil and mom Mary, Mujde and Radzi….appreciating and enjoying Today
Portland (Lake Oswego), OR
Forum Posts: 97
Member Since:
19 July 2008

Offline

Seanne,
I echo what all others have said - I am so very, very sorry to hear about Wrigley and what you've been going through and what you're going through now. I know that nothing will take away the pain in your heart today, but I do hope you know that we are all thinking of you and if, or when, you're ready to talk more about Wrigley and share great stories of her, I know I'd love to hear them.
Our thoughts are with you...
Smokey and Tori

Forum Posts: 1809
Member Since:
22 August 2008

Offline
Forum Posts: 364
Member Since:
25 April 2008

Offline
Dear Seanne,
I wanted to tell you how sorry I am to hear about your girl ,Wrigley's passing. Every journey on this path is unique.
It really is hearbreaking to hear such news when we lose a fellow tripawd. I know this is a painful time for you. I'm sure Wrigley did all she could to hang in there for you. It was beautiful to say your final goodbyes and spend the night with her to let her know how much you loved her.
Please have faith that one day your heart will be whole again, when you are reuinted with her.
Sending you a hug,
Kim & Buster
Kim & Angel Buster
"Until one has loved an animal, a part of one's soul remains unawakened."
–Anatole France
Forum Posts: 104
Member Since:
20 December 2008

Offline
Forum Timezone:
America/Denver
Member Stats:
Guest Posters: 973
Members: 10983
Moderators: 2
Admins: 3
Forum Stats:
Groups: 4
Forums: 23
Topics: 14071
Posts: 195849