Join The Discussion
Learn about life on three legs in the forums below. Browse and search as a guest or register for free to take advantage of member benefits:
Instant post approval.
Private messages to members.
Subscribe to favorite topics.
Join the Live Chat and more!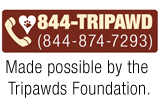 Want to talk with a friend who understands? Call the toll-free
Tripawds Helpline
!
A
A
A
Forum Posts: 28
Member Since:
10 March 2009

Offline
I wanted to know If a dog knows its dying or if something is wrong with them. Also can another dog sense the same about them. The only reason I ask is when someone visits and asks about her it seems as if she is listening to our conversation. Also my younger dog seems to act a little different towards her. Hes not mean but not bothering her as he use to. He will still once in a while lick her but no where near as much as he use to. It seems like hes giving her more space.

Here and Now

Forum Posts: 11311
Member Since:
25 April 2007

Online
If only we could answer this question, our final days with them might be a little easier.
If you listen to certain animal behavior experts, the short answer may be no. Ceasar Milan said in his first book that dogs do not fear death or grieve. But I'm not sure I totally agree. They do sense their own weakness. In the wild, dogs in their dying days will often run off to pass quietly on their own somewhere safe. We have heard of terminally ill dogs exhibiting this behavior crawling under a porch, or appearing "distant".
Thanks for asking, it's a good discussion to start.

Livermore CA
Forum Posts: 684
Member Since:
24 January 2009

Offline

I had some classes with an animal communicator, and her feeling was that they pass into the spirit world but are still very much with us. They only thing they miss is our touch. My own experience seems to support that. I think they still have jobs to do, so they check in with us when they're around but sometimes they're doing something else.
Cemil isn't at that place yet, but the other dogs do treat him a little differently. Now, he's wanting to play and they're hesitant about body slamming him, which is the way they played before. It looks like they know they need to be a little more careful around him.
Cemil and mom Mary, Mujde and Radzi….appreciating and enjoying Today

Northern CA
Forum Posts: 314
Member Since:
23 December 2008

Offline

Very interesting topic and one that would a great discussion to see others experiences. I do feel that animals have a very keen sense of emotions- there is an excellent book I read years ago called When Elephants Weep: The Emotional Lives of Animals by Jeffrey Moussaieff Masson and Susan McCarthy that talks about how animals can have complex emotional lives.
There are several youtube videos also that make you wonder about their sense of emotion- Christian the Lion, Bella the dog who was the playmate of an elephant in a sanctuary, the cow that escaped the slaughter house… Whether or not these emotions are felt at the level as we as humans feel will always be questioned because we cannot truly understand what goes on in their brains, but I do believe they feel something. In our experience with Wrigley Friday night, when you could tell she was in serious decline, our other dog Rookie layed at her side with us, licking her face and staring at her while she slept as we did.
In the past 3 months during Wrigley's recovery from amputation, if Rookie was in another room and he heard Wrigley cry or whimper, he would run to her from wherever he was and make sure she was ok. They had a very incredible bond. One that I don't think would be possible if they did not have some sort of emotion. I think it is possible they can smell the cancer as well. I don't think they can process it like we as humans do, but I believe they know.
I also believe they can hear our words. I have had so many times when I tell our pets something and I really believe they comprehended. Just saying the word WALK set off a frenzy.
Years ago I had to put down one of my horses. For those of you that have ever been in a barn full of horses, you know there is no silence. Someone is always, kicking the stall door, whinnying to another horse, pawing the ground….. lots and lots of noise. Well , at the precise moment when my horse was given the injection and dropped to the ground ending his battle with pain, you could have heard a pin drop. The barn was silent- it was like there was a moment of silence given in honor of a fallen friend. It remained silent for a few minutes and then it was back to the noisy barn again.
For just as many that feel like I do that animals do know and can feel, there will be just as many that say they can't. For me it is a much more comforting world knowing they are more complex than they are given credit and makes loving them much more fun. ( and harder too at those difficult times)
Seanne
Forum Posts: 28
Member Since:
10 March 2009

Offline
I think they know something is not right with them as even my younger rottie gave her his bone today. It just seems he even knows something is not right with her and doesn't jump on her anymore but will still show her affection. As far as my Dasha goes it just seems she knows something is not right with her and she seems to distance her self from the younger one but there are times she still will lay by him but for the most part she will keep to herself. I really do think they feel the emotions arround them, hard to explain but sometimes when looking at her and knowing she is dying and theirs nothing I can do about it, I get upset and thats when she always comes up to me as if to say its ok. Its almost like she is comforting me during this time when really I should be comforting her.
Forum Posts: 345
Member Since:
25 April 2008

Offline
I believe death is a process and it is also noted in this link http://www.eliz.....severino.c.....22599.html .
Buster has been living with lung mets now since mid December. He is living on borrowed time according to the Dr's. I can sense he realizes he is tired and doesn't have the energy he used to have as a pup. However, this is life and the nature of getting older. It seems he now has to go up to every dog he sees as if to see hello and make some friends, if in an odd way to pass the time waiting for me to be reunited with him one day once his time comes.
They say dogs have a really keen sense of smell. Which is why certain breeds are used in search and rescue and I even had a dog once that would constantly go up to my leg & smell a certain birth mark I was born with. I was always worried about skin cancer. With this information, I think dogs can smell cancer or some sort of disease that another animal has… they know more than we realize. It is their instinct.
They don't have a fear of death like us humans do.
Kim & Buster
Kim & Angel Buster
"Until one has loved an animal, a part of one's soul remains unawakened."
–Anatole France
Forum Posts: 132
Member Since:
11 February 2009

Offline
I agree with Kim...they don't have a fear of death, and don't have all the emotional baggage around death that we humans do.
I think that some of the pack/behavior changes are due to a disruption in the pack dynamics. When Cooper wasn't doing well a couple of months ago, my female Rottweiler started acting differently, by challenging him for "top dog spot." She stared him away from the dog beds, and tried to challenge him over food. Extremely unusual behaviour for her! And while I think it's often a good strategy to let dogs jockey for pack position if no harm is going to be done, I stepped in and didn't allow her to do that. She is not leadership material and I knew he'd start feeling better soon. Which he did, and in pretty short order put her back in her place!
Having lived a long time LOL and having had many dogs come and go, I have come to the conclusion that most behavioral changes are to do with changes in pack dynamics, and dogs either feeling insecure or feeling like they need to act to change their status one way or another.
But I did hear a strange story from someone last weekend. She works at an assisted living home, and they have two resident dogs. She said one of the dogs knows when someone is going to pass on, and for about a week beforehand, will start spending all her time in that person's room, won't leave unless completely necessary. When the person dies, the dog (a black lab) goes back about her business as usual. My first thought was, that is sort of creepy....you sure wouldn't want that dog suddenly showing up in your room and refusing to leave! But the woman I chatted with said people found it really comforting.
Forum Timezone:
America/Denver
Most Users Ever Online: 597
Currently Online: admin, kazann, romythepawd
52 Guest(s)
Currently Browsing this Page:
1 Guest(s)
Devices Used: Desktop (48), Phone (6), Tablet (1)
Member Stats:
Guest Posters: 997
Members: 11976
Moderators: 2
Admins: 3
Forum Stats:
Groups: 4
Forums: 23
Topics: 14717
Posts: 206833