Join The Discussion
Learn about life on three legs in the forums below. Browse and search as a guest or register for free to take advantage of member benefits:
Instant post approval.
Private messages to members.
Subscribe to favorite topics.
Join the Live Chat and more!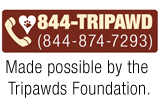 Want to talk with a friend who understands? Call the toll-free
Tripawds Helpline
!
A
A
A

Forum Posts: 2
Member Since:
4 March 2017

Offline
Hello All,
I am looking for advice from anyone out there who has had/having experience with a 3 legged dog, in particular 3 years + post amputation. We have a beloved 13 yr old Hunterway X who lost her hind leg 3 years ago due to a severe case of animal cruelty.
Jay Jay did amazingly post surgery for 3 years and was almost more active than before her amputation. She accompanied us on daily walks of over an hour and lived her life just as full and lively as any 4 legged dog, the extra attention she earned was also a hidden bonus!!
Unfortunately she has taken a turn for the worst and now struggles to walk over 5 metres at a time without her good back leg collapsing from underneath her. The first vet I consulted predicted arthritis of the hip joint setting in, and prescribed her with Caprieve to help with inflammation. This had little effect after 10 days so my next step was to consult another vet who finally preformed X-rays and concluded a cruciate ligament tear was the cause of her lameness. I was then referred to a specialist surgeon who was to go ahead with Tibial Plateau Levelling Osteotomy surgery, however just before surgery when she was under anaesthetic and he could properly feel her joint movement he doubted the diagnosis of a cruciate ligament tear. He preformed X-rays of her spine and concluded the disc were worn and she had arthritis of the spine due to the twisting a tripod experienced with only one back leg. Jay Jay was then given a prendnisone injection, followed by tablets to relieve this disc wear and tear. Prendnisone appeared successful for the first 2 weeks, however the lameness returned with a vengeance and she is at her lowest condition ever. She struggles to keep her back leg straight and strong enough to support her hind body. She is approx 15 kg and doesn't appear depressed or has a loss of appetite from her condition however I am worried she must be in pain when she walks. My question to those owners of aged tripawds....has anyone experienced this kind of relatively quick deteriation?? Any advice would be greatly appreciated. Thank you. 
Jay Jays' mum

The Rainbow Bridge

Forum Posts: 23575
Member Since:
25 April 2007

Offline
Hi JayJay's Mum, welcome. Your future posts won't need approval so post away.
She is such a lucky dog to have you for humans after all she's been through. I'm betting she was so happy to be out of that bad situation that it gave her a new reason for living! Do you have any photos of her? We'd love to see some, since we're not familiar with her breed. Here's a post on adding images to the forums, let us know if you'd like help.
I'm so sorry to hear she's having mobility issues. Many of us have older Tripawds and have been through similar challenges. Three years sounds like a short time for her to have these issues, but remember that a dog's body/lifespan progresses so much more rapidly than ours does, that three years is long time to them. 
What's her daily activity level like right now? Also, don't forget to keep her mind busy with interactive games like food puzzles and gentle obedience training. As dogs age it's so important to stimulate their brains, just like with humans.
She's getting some great medical care. Has she seen a canine rehabilitation therapist yet? I would definitely want to work with one if you're not already, to help her through this ruff time and get her body back into shape. From what you describe it sounds like she could definitely use some help in strengthening her core and back muscles. A therapist is incredibly valuable and can teach you what her needs are at this point in time, and how to help her be comfortable. As a bonus, the Tripawds Foundation may even pay for your first consultation. See: http://tripawds.....bursement/
I hope this helps. Stay tuned and others can chime in with their own experiences too.

London, UK

Forum Posts: 1520
Member Since:
15 December 2015

Offline
Hi There, Jay Jay and Jay Jay's Mum,
Ditto everything Jerry says. Jay Jay is one lucky girl to have found you.
I'm obviously not a vet, but I do know how frustrating it can be when they are struggling to pinpoint the source of the problem, and all you are seeing is your girl getting worse. Of course, it's also probable, I would think, that there are several factors contributing to Jay Jay's problems. When I read your post, I thought at first that it seemed surprising problems caused by arthritis would come on so suddenly. But then I remembered that actually my Meg's elbow problems (which ultimately resulted in her amp, very long story) also appeared to come on suddenly and she deteriorated very rapidly. In her case, they'd been there for some time, but she reached a point where she crossed a threshold and was no longer able to manage, which is when I realised there was a problem.
I wanted to second seeing a rehab vet. It's been invaluable for us, both in terms of treatment and in providing guidance and support. My girl, Meg, sees one, who has shown me exercises etc. to do with her, checks her over regularly, and also does acupuncture and laser on any areas of tension in her spine (as you say, the twisted Tripawd gait can take a toll on the spine). Dogs, like people, seem to respond differently to acupuncture, but for Meg the improvement is very obvious. She also used to do hydro on the underwater treadmill to build up the strength in her legs (might be good for Jay Jay?). My quadpawd, Elsie, has cruciate problems and also sees the rehab vet for laser and acupuncture.
It's great that Jay Jay still has an appetite and doesn't appear depressed. She's clearly a girl with a great deal of spirit and I'm sure once you find the way to help her through this she'll be back out living life to the full, and enjoying even more attention (if that's possible). Ditto the request for pics 

Incidentally, whereabouts are you? Are you in the UK too?
Sending all best wishes to you both,
Meg, Clare and Elsie Pie xxx
Meg, Mutt, aged around 9, adopted 31/12/2009. Sudden explosive right elbow fracture 06/12 (caused by IOHC), diagnosed with End Stage Arthritis 03/15, Total Elbow Replacement 08/15, problems with healing leading to skin graft & skin flap surgery, Chronic Infection leading to implant breakdown. Became a Tripawd 9th March 2016. 
Lives with Mum, Clare, watched over by Angel Pie and Angel Billie
My life as a MEG-A-STAR 




Michigan
Forum Posts: 1397
Member Since:
2 April 2013

Offline
Murphy had his front leg removed due to cancer almost 4 years ago.  He is now 11 years old and lately having a harder time getting around.  I have noticed him having harder time getting up from laying down - like it's harder to get his back legs correctly underneath him & get enough oomph to stand up.  Also he seems more stiff when walking.  He can still run when he wants to!  lol When he goes to lay down it does seem as though his legs are just collapsing under him.  It's hard to tell sometimes if it's the back leg on the same side as his amputation or if it's his good front leg that's giving him trouble - sometimes it's one, other times it's the other.
We recently took him to a canine chiropractor for the first time for an evaluation & adjustment.  She has us doing some exercises, cutting back on his food (she said he needs to lose a couple of pounds) and we needed to cut his nails shorter so that he can feel with his pads more.  He's going for his 2nd visit this coming week.  She also has a whole rehab center there, so if this doesn't help, maybe she'll have some other suggestions.
Donna
Donna, Glenn & Murphy  http://murphyh......pawds.com/
Murphy had his right front leg amputated due to histiocytic sarcoma at 7 years old.  He survived 4 years, 2 months & 1 week, only to be taken by hemangiosarcoma at 11 1/2 years 6/12/17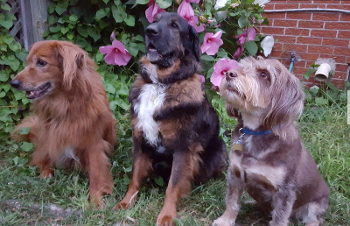 Forum Posts: 2
Member Since:
4 March 2017

Offline
Hello and thank- you everyone for your reply, I feel very lucky to receive such helpful replies so quickly. I made my first attempt to include a picture of Jay Jay - this is her this afternoon at the font step trying to avoid the sun. We are living in New Zealand and Jay Jay is a breed used to heard all the thousands of sheep we have here, although Jay Jay never practised as one! She is more of a relaxed town dog who enjoys pounding the pavements and reading the daily doggy mail.
I have never taken her to see a re-hab specialist or therapist of any sort, and to be honest I don't think they exist in our small little city - but I will definitely investigate the possibility of acupuncture or laser therapy, she is not so keen on water so hydrotherapy might not go down well.  My boyfriend is also trying to find a harness/sling type thing to fit over her tummy/rear leg that has a handle on it so we still take her for her favourite walks by taking the load off. 
Today I spoke to the specialist that took the X-rays of her back and he recommend increasing the steroid dosage in the hope this will help with the arthritis. If this shows no sign of improvement for Jay Jay he has told me I should be considering putting her down.
I am finding this idea very difficult to accept because the deterioration has been so rapid and It was only 2 months ago that most people had no idea she was a tripawd until the were close up - she got around so well and could walk for hours if we let her!
I guess my biggest concern is that she is in pain - although she is a very happy social dog I would hate her to be hiding this pain.
We are defiantly giving her much more attention as she was previously an outside only dog who would only be allowed to come in the laundry at night...she has since been upgraded herself to free range of the whole house and she loves the extra company and affection she is now getting.
Once again thanks for the advice, concern and kind words. I will keep you posted.
Jay Jays Mum

Forum Posts: 21
Member Since:
13 November 2013

Offline
Hi Jay Jay's mum and Jay Jay...so sorry to hear about what's happening!  🙁
I would also chime in and vouch for rehab if you can find it.  It's worth a drive, believe me; it's remarkable what even a small amount of it can do to help out.  Here are some other things to consider, if available to you.  My tripawd and my older quadpawd both get monthly shots of Adequan.  This is a horse medication that has been shown to help with joint issues in dogs.  It promotes the healing of joint tissues.  I can see a noticeable difference in the older dog (the tripawd never appears to slow down) after he gets his shot.  It's expensive, but it works and has kept his arthritis at bay and a nonfactor in his day to day life.  You might also inquire about Gabapentin.  It is a human medicine that also works well with dogs, to help with pain.  Lastly, Rimadyl is a great anti-inflammatory drug.  Both dogs have been on both of these as needed and the combination is great for pain from inflammation.
My best to you both!
Forum Timezone:
America/Denver
Most Users Ever Online: 597
Currently Online:
57 Guest(s)
Currently Browsing this Page:
1 Guest(s)
Devices Used: Desktop (55), Phone (2)
Member Stats:
Guest Posters: 1003
Members: 12373
Moderators: 2
Admins: 3
Forum Stats:
Groups: 4
Forums: 23
Topics: 14889
Posts: 209188