Join The Discussion
Learn about life on three legs in the forums below. Browse and search as a guest or register for free to take advantage of member benefits:
Instant post approval.
Private messages to members.
Subscribe to favorite topics.
Join the Live Chat and more!
The Tripawds Library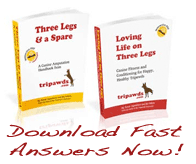 Download Tripawds e-books for fast answers to common canine recovery and care questions!
A
A
A

Forum Posts: 11
Member Since:
24 June 2017

Offline
Hi All, 
Any insights on shivering/trembling and also bruising on lower abdomen?
9.5 yr old female spayed Eng Bulldog, 22.8kg, 9 days post-amputation of front L limb - Amputation is 5mos post-diagnosis for OSA, she had SRS and chemo first, then suddenly stopped using the leg, so we had to make the decision to remove it.  WHY she stopped using it is not known, but suspected neuropathy.
Overall Molly's recovery has been going well.  Incision site looks great, she's adapting well, eating and peeing normal, pooping *slightly* less frequently (1x every 36 hours vs 1x every 24 hrs pre-surgery) mostly because she's always been one who needs exercise to get things moving, and she's not moving around as much this week.  Here's the concern however: she gets these episodes of shivering or trembling, but after a couple of thorough exams, the vet is not convinced it's pain response.  Molly's on lots of meds- percoset, gabapentin, meloxicam, amantadine.  We're just starting to wean her off some of these, but the shivering started happening since about day 3 home. Last night the shivering was also accompanied by crying (but not loud yelping/screaming like she had the first three night's home).   She also has mystery purple bruising on her abdomen - vet has done thorough exam for other signs of bleeding and found nothing.  Bloodwork all looks good - platelets are good and she has a "slightly low Hemoglobin level which (vet) suspect is due to the blood loss during surgery and the few days after while the muscles that were cut stop oozing."  Molly has not fallen that we're aware of, but could possibly have pulled muscles while trying to climb on things she used to with 4 and can't with 3.  We ended up at the vet in the middle of the night trying to get her calm & comfortable, and did more bloodwork again to check for any changes (none). Last night she was also tucking her bum/curving her spine but exams for abdominal pain or back pain showed nothing.
Her breath smells unusual - slightly metallic or "chemical", ever since surgery.  Suspected from antibiotics, but doses stopped Thurs and no change.  Poop also smells unusually strong/foul for her, but no change in diet.
She is tired, I suspect maybe slightly depressed as well. 
Pre-surgery radiograph of chest shows no signs of cancer.  Pathology of Lymph node pulled during surgery also came back clear.
She's a mystery - keeping everyone guessing at every turn.  Just though *maybe* someone out there may have had a similar situation??

Minneapolis, MN
Forum Posts: 609
Member Since:
23 April 2016

Offline

The shivering/yelping/trembling are most often associate with nerve pain, phantom limb pain.  And I know she is on Gabapentin, but the question I would be asking is if it is enough and or frequent enough to combat a seriously jangled nervous system.  
I am, of course, not a vet and I am not going to suggest dosages, but will say there is a wide range in dosing of this drug that can be given.  My boy was on Gabapentin for 2 weeks prior and 4 weeks after amp.  It was the very last drug we weaned him off and his pain was very well managed.  He did have a nerve sheath tumor which made the Gabapentin even more necessary, but a lot of OSA dogs experience nerve pain post operative and when there is yelping and trembling or shaking, that often seems to end up being the culprit.
If you read around, it can be given every 8 to 12 hours, so is her schedule 12 hours rather than 8?  Or can dosage be increased slightly.  No guarantee this is the issue, but 9 days post op is early still and I would definitely talk through the options on this drug with your vet.
For reference, my boy was 32 kg and took 300 mg every 8 hours.
Lisa, Minneapolis
On October 27, 2016, nearly 6 months after amputation, and 18 months since his cancer likely started, we lost Pofi to a recurrence of Soft Tissue Sarcoma in his spine quite suddenly.  His Daddy and I miss him terribly along with his canine sister, Mia, and two feline siblings, Lucia and Cliff.



Forum Posts: 1776
Member Since:
22 August 2008

Offline
Until proven otherwise, I would assume phantom pain or spinal pain.  Also sometimes shivering could be secondary to opiates such as Percocet.  I have not used that drug myself but any narcotics could do this. If they have checked her electrolytes and blood glucose then it is probably not medical.  Have they checked her kidney function?  Sometimes an abnormal smell is due to uremia.
If her platelets and red cells are still normal then the bruising could still be normal for 9 days post-op.  Sometimes the blood leaks SQ from the muscle cuts and can extend to the caudal half of the body.
Pam
Forum Timezone:
America/Denver
Most Users Ever Online: 597
Currently Online: admin, dobemom, dogdadderek, Purrkins, teri, tinsch, Rocky's dad, threepaw, Heather
75 Guest(s)
Currently Browsing this Page:
1 Guest(s)
Devices Used: Desktop (65), Phone (18), Tablet (1)
Member Stats:
Guest Posters: 959
Members: 10341
Moderators: 2
Admins: 3
Forum Stats:
Groups: 4
Forums: 23
Topics: 13796
Posts: 191431