Join The Discussion
Learn about life on three legs in the forums below. Browse and search as a guest or register for free to take advantage of member benefits:
Instant post approval.
Private messages to members.
Subscribe to favorite topics.
Join the Live Chat and more!
Help Tripawds Everywhere!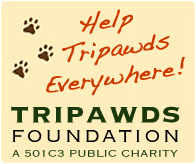 Help all amputee pets and their people with a charitable contribution to the Tripawds Foundation.
A
A
A
Hi Jackie and Huckleberry,
The site has decimal points.  That is the only thing that I can see wrong but how do you put it in without characters?
You just want to put the name of your blog there. No decimal points, no spaces, dashes. Does that help? If not let us know in Technical Support and Admin guy will create one for you.
Glad to hear Huckleberry is doing pretty darn good and getting back to a new normal. And let me say that Your attitude sounds GREAT and in time he will get to a point where you feel much better about his strength and stamina. Follow up with a rehab therapist and the Tripawds Foundation will even pay for your first rehab visit! You'll learn so much and how to do exercises at home, it's quite helpful.
Hi, finally out of work...thank goodness! I think only about 65% of me was at work today, lol... I bet even less shows up tomorrow after the drop off. On a better note, David and I have all of next week off.  It is our 9th anniversary.  We were going to go away to either Louisiana or Florida but after all the weather we decided hey.. lets rehab Huckleberry, hahah.  In all seriousness  though, we did decide regardless of the weather that this was the right thing to do.  We did not find out about the condition of his leg until I made my first post in here.  We just looked at each other and said "Happy Anniversary sweetie" and decided together that this was what we wanted to do.  
Huckleberry has been taking Metacam for pain and swelling for I guess about 2 weeks now. That's probably why the doc told me to just do a trial run that one day and then give him another dose in the morning before we bring him in.  I did not know that it helps with the phantom pain, I am so glad for that.  I do not think I will have a hard time getting the Gaba
in to him tomorrow, he LOVES the tuna and he will be NPO after 10pm tonight, per his doc.  
The doctor did not say anything about the litter, but one of the links on this site brought me to Amazon and that popped up as important to keep bacteria out of the surgical site.  Just a sales pitch.. glad I asked.  I did however find the neatest cat boxes. They are actually for dogs believe it or not, and one side is cut down to allow for a debilitated animal to have easy access.  I think I am going to get one and add it to the array of whatever will end up working the best for him.  I have some pee pads that should catch anything that the boxes don't, and they are easy enough to replace.  
I got Jerry's response also (this page turned into page 2 lol so I am combining.) I will try again this evening and use just the blog name this time.  I hope there is a rehab place that I can take Huckleberry to so that I can start out right with him. I will have to ask his doc and if she doesn't have any suggestions then I will try to hunt something down myself.  I live in Kentucky and the vet care here is just starting to provide care more like I am accustomed to giving and getting.  For many here animals are like second class citizens but I have finally found some decent caring people and vets so there is hope 

Thank you so much for your support, I cannot tell you how much it means to us.
Jackie and Huckleberry 

Hugs,
Jackie, David, and Huckleberry

Michigan

Forum Posts: 1266
Member Since:
11 July 2016

Offline
Is this the box you are talking about?
We got one for Purrkins (front leg amp) He still had issues getting into his litter box without flopping in.  I don't know if that will be a issue for you guys or not. We ended up cutting the box out further so Purrkins could get in easier & that worked for him . What I really want to tell is the box ended up being too small for Purrkins after recovery, he could not turn around in it comfortably so we went back to our regular size litter box and cut the front out of it. Which works great. Since Huckleberry will be recovering in the cage that should be great. Just heads up for after recovery you may need to go back up in size. Maybe one of our rear leg members can chime in and tell you what they used. I have a friend with a rear leg amp she used a box lid in recovery and afterwards he went back to his regular low lipped litter box. Things to think about if you don't need to spend the money its nice to know. 
I hope you can take Huckleberry for Rehab that would be great ! There are things you can do at home after recovery we have a forum on Feline Rehab worth taking a look at too! There are some really good downloads in that forum.
Happy Anniversary even if it is Recovery you guys will be together thats what matters! Hope you can get the blog figured out & please don't hesitate to post in technical support our Admin will be able to figure out whats going on. 
We will keep pawsitive thoughts coming to Kentucky for Huckleberry tomorrow ! Let us know how things go when you can and when you get to bring Huckleberry back home to recover and heal!
Hugs,
Holly & Purrkins


Virginia


Forum Posts: 14705
Member Since:
22 February 2013

Online
Just sending lots of positive healw energy to Huckleberry!!   He'll be high as a kite tomorrow and feeling no pain!
And just becw Huckleberry can't eat later tonight, doesn't mean that you can't!   Eating  junk food and CHOCOLATE at night relieves human stress!!   An anecdotal conclusion, not based on science!! 🙂 🙂 🙂
Hugs
Sally and Alumni Happy Hannah and Merry Myrtle and Frankie too!
PS.  You've done a great job of preparing!
Happy Hannah had a glorious additional bonus time of over one yr & two months after amp for osteo! She made me laugh everyday! Joined April's Angels after send off meal of steak, ice cream, M&Ms & deer poop!
Good morning,
I left a post last night only to find that it didn't post, lol. I guess you are limited to your smileys? So I took the smileys out and lost the post 

Spent the evening fixing up the "master guest room" for prince Huckleberry. Never realized how many pillows, blankets, throws, boxes that you could squeeze under a bed but I do believe it is Huckleberry-proofed! Trying to coax him now to take his Gaba... he isn't running for the bowl. I added a little tuna to the juice and gonna sit here a few and see if he takes it now.  
Yes, that was the box I was talking about! I have that, an old plastic cover that is very low to the ground but longer, and a few other things for when he has run of the room.  I think we will try the cover first, it looks perfect. My stomach is in knots right about now.
I got the wordpress site opened finally. I uploaded pictures ( I think) and now I have to figure out how to go from one to the other.  I think it will be easier on the PC than with the phone.  Hopefully I will have some Huckleberry pics to post soon 🙂  
Thinking good thoughts, thank you so much for the support!
Huckleberry and Jackie 

Hugs,
Jackie, David, and Huckleberry

Michigan

Forum Posts: 1266
Member Since:
11 July 2016

Offline
paws120 said
Who said you can't teach an old dog ...errr..cat new tricks?  
WE didn't 

 We knew you would figure it out! 

 I know there is so much new going on and with the worry and then you have to learn something new! Way to go!! You have a limit of 5 of the Smileys on the bottom to use you can use emoticons from your phone or computer if you have them they have no limit!😀 
I love the cage set up Prince Huckleberry has a palace for this recovery cage! Love the hammock too!
I know on under the bed it takes a lot! We just put our mattress directly on the floor. Thats a 2 person job;) Anyway you are ready and stay strong you have to for Huckleberry Breathe I know its scary I was terrified but trust me it seems scary on your end right now then where we are! Easy for us to say we are on the other side over year now but I remember exactly how your feeling! It my be scary seeing his incision, I looked at all kinds of photos so I mentally prepared myself for it and that helped! I think for me the worst was leaving Purrkins and waiting to hear he did did fine thru the surgery! I got to visit him on his second day and I had to leave him again! Wasn't easy to do. First day home I was terrified because he did not move at all in the hospital. You have to stay strong even if you want to panic ok! Panic on here and don't show that to Huckleberry! I had a complete panic the first day home and then it went pretty much uphill.!  We had a bump in the road when we needed more pain meds! If it wasn't for that I would say it was ALL uphill! Pain management is key to a smooth recovery !
We are thinking of you & Prince Huckleberry !
Holly & Purrkins❤️
Hey we are thrilled to see the photos! Congrats! What a cutie!
It seems like you set up a Wordpress blog somewhere outside of the Tripawds Network? You're a computer genius and didn't even know it! Your own Tripawds blog, http://paws120......ipawds.com, is now ready to go but it's not where the photos reside. You got them uploaded though and that's great. 
Oh and no you are not limited on smileys here. Not sure why your post disappeared but super glad you came back with an update. 
Did he take the Gabapentin? If not here are some tips to hide pills and get Huckleberry to take the medication.

Virginia


Forum Posts: 14705
Member Since:
22 February 2013

Online
Ohhhh yes Mrs Admin!!   Mr Admin Guy did indeed limit our number of smileys to no more than five!!  It was arpund the same time (I think) that Mr Admin Guy limited the number of letters you can use in a thread title!
Yes....some of "us" (aka yours truly among others) loved using an abundance of smiley faces and qot quite wordy with titles!!
Soooo...we can only use five of these





  (Or any combo of poop, heart, etc...only five total can be used)
HOWEVER.....eh...eh.........we can use allmof these we want!! 🙂 🙂 🙂 🙂 🙂 🙂 🙂 🙂 🙂 🙂 🙂 🙂 🙂 🙂 🙂 🙂 🙂 🙂 🙂 🙂 🙂 🙂 🙂 🙂 🙂 🙂 🙂 🙂 🙂 🙂 🙂 🙂 🙂 🙂 🙂 🙂 🙂 🙂 🙂 🙂 🙂 🙂 🙂 🙂 🙂 🙂 🙂 🙂 🙂 🙂 🙂 🙂 🙂 🙂 🙂 🙂 🙂 🙂 🙂 🙂 🙂 🙂 🙂 🙂 🙂 🙂
Happy Hannah had a glorious additional bonus time of over one yr & two months after amp for osteo! She made me laugh everyday! Joined April's Angels after send off meal of steak, ice cream, M&Ms & deer poop!
 Oh man... it was not a good morning. I put the gaba in the tuna and he wouldn't take it.  Added a teeny bit of tuna, nope. A tiny bit more and finally he took it.  An hour and a half later still a wide awake cat and a mama late for work. 
4 hours later,  Huckleberry made it through the surgery.  She said he did well.  I will be picking him at tonight. I'll feel better when I see him. 😢
Hugs,
Jackie, David, and Huckleberry
Glad he finally ate the medication. Many pets will start refusing food if they associate meds with feeding time, so it's best to feed meds separately from their daily meals.
Forum Timezone:
America/Denver
Most Users Ever Online: 597
Currently Online: benny55, hester, paws120, remingce
75 Guest(s)
Currently Browsing this Page:
1 Guest(s)
Devices Used: Desktop (68), Phone (8), Tablet (3)
Member Stats:
Guest Posters: 974
Members: 10619
Moderators: 2
Admins: 3
Forum Stats:
Groups: 4
Forums: 23
Topics: 14199
Posts: 198587