Join The Discussion
Learn about life on three legs in the forums below. Browse and search as a guest or register for free to take advantage of member benefits:
Instant post approval.
Private messages to members.
Subscribe to favorite topics.
Join the Live Chat and more!
Help Your Tripawd Swim!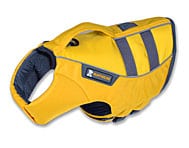 Three legged dogs swim safer and have more fun with the K9 Float Coat from Ruffwear!
A
A
A
Obie had his right hind leg amputated about 6 weeks ago, and I am hoping some of you might have experience you could share.  His wound healed well, and we got cool laser treatments that helped with the nerve pain.
It feels like his internal stitches are not all dissolved.  Two have come to the surface, and I can tell some have released internally and some haven't.  He seems to have discomfort when he changes positions from laying on the good side to the amputated side, and there is a lot of drama when he rolls over.  However, he settles down quickly and goes right back to sleep, so he is not in great pain. Do you know if the partial release of the internal stitches can cause discomfort?
Thanks for any help on this.   
Hmmm. I'm guessing that it would be bothersome, it's definitely worth mentioning to your vet.
Glad the laser treatments helped!

Forum Posts: 47
Member Since:
6 July 2017

Offline
Hello,
I am so sorry to hear that Obie is experiencing discomfort.  But as you said, it must not be too bad if he can go back to sleep that fast.  Hopefully, your vet can give you some insight.  
Every now and then Tuxedo also has issues when he moves and for him it has been 2 months now since the amutation of his right hind leg.  It does not seem like in Tuxedo's case to be related to internal stitches but rather due to soft surfaces.  If he lays on my couch, which is very cushy, every time he tries to stand up afterwards or shift he struggles and makes an angry type meow, like he does when Dazzle my other cat lays on top of him.  This does not happen on more firm surfaces.  At first I thought this might be phantom limb pain, but since it only happens on soft surfaces I decided that it is related to frustration/balance & having to retrain his muscles to deal with cushions using just 3 legs.  In the mean while to help him deal with my overly soft couch issue, I flattened a few boxes and wrapped them with one of Tudexo's sherpa throws.  
I mentioned this because if Obie sleeps on a nice soft spot, it might not just be the inner stiches.
Hugs to you and Obie!
Dawna, Tuxedo, and Dazzle
Sorry Obie is having some issues! Can you just phone your Vet and ask them? 
You could post under the ask the Vet forum too.  
http://tripawds.....ask-a-vet/
We didn't have incision problems or anything like that.
Hope you get some answers, Glad the laser helped too! 
Hugs
Holly & Purrkins

Thanks Dawna,  I hadn't noticed, but it does only happen when he is struggling to get his balance and get up.  He gets off balance and starts walking backwards off my lap, then the operatics start. That helps a lot!
Jerry and Holly, the laser was awesome!  Obie looked like he was visibly relaxing every time they used it on him.  And he had much improved mobility.

Forum Posts: 47
Member Since:
6 July 2017

Offline
If you have not yet, it might be worth visiting this thread.
http://tripawds.....mputation/
It is an older thread, but on page 2 I believe there are a couple of videos which might be similar to what you are describing.  Tuxedo's are similar, but like I said, never happen on a firm surface.  
We did do acupuncture/laser acupuncture for Purrkins to get him off his meds after his surgery, we have continued to what our Vet calls tune ups;) Anyway every 3 months fyi, If that is a option for you and Obie. I'm sure all cat, cases, period of times on treatment & how often vary per case. Just wanted to mention it. Purrkins loves his sessions as well! We see a big difference in every session! I am firm believer if we can afford to do it, do it! Purrkins also get chiropractic as needed. Same Vet does both.
Lets us know how Obie is doing, if you call the vet or etc.
Hugs, Chin & ear scratches to Obie
Holly & Purrkins 

Holly, There is a vet that does acupuncture, about 40 minutes away.  I am trying to decide if the stress of taking him in the car justifies the benefit.  I wish there was someone closer.  By the end of the laser treatments, he was shaking when I took him to the vet, even though he clearly enjoyed the laser treatments.
Dawna, thanks for the link to the thread.  That backwards walk is exactly what Obie is doing, only without a lot more vocalization on his part.  I think he looks like a hornet with his torpedo shaped hind end because his hind leg is so far forward.  That much sweeter kitty looks the same. 
BTW - here is a picture of Obie.  He's a sweet boy most of the time.
WOW Obie is a handsome cat! I love that face of his, what gorgeous coloring and markings too.
So yeah we've had a few kitties do the backward walk thing and it usually subsides in a month or two, and with some complimentary therapies like acupuncture it's bound to clear up sooner. Many vets will make house calls, maybe you could find one to come to your home? If you want, let us know what part of the world you live in and we can try to find one for you.
Oh Obie you are one Handsome guy!!

I Hope the Vet will make house calls!
Our holistic vet is a good hour away! Purrkins is not the atypical kitty! He rides in the car with no sound?!? He watches out the window and just enjoys the ride!? Seriously got me;) Purrkins quivers at the traditional vets not at the holistic Vet! There is a huge difference between the 2!! All good happens at the holistic vet & the Vet always makes Purrkins feel better:) Always has been a pleasant experience for him!
You know Obie the best! If they don't make house calls. Maybe try it once and see how Obie does? 
Let us know! 
Holly & Purrkins


Virginia


Forum Posts: 16034
Member Since:
22 February 2013

Offline
Just wa t to say OBIE IS SOOOOOO CUTE!!! Such a great "mug shot" and gorgeous eyes!
Hoping the acupuncture helps. Let us know.
Hugs
Sally and Alumni Happy Hannah and Merry Myrtle and Frankie too!
Happy Hannah had a glorious additional bonus time of over one yr & two months after amp for osteo! She made me laugh everyday! Joined April's Angels after send off meal of steak, ice cream, M&Ms & deer poop!
Forum Timezone:
America/Denver
Most Users Ever Online: 597
Currently Online: sessy, yaya
88 Guest(s)
Currently Browsing this Page:
1 Guest(s)
Devices Used: Desktop (78), Phone (11), Tablet (1)
Member Stats:
Guest Posters: 1000
Members: 12175
Moderators: 2
Admins: 3
Forum Stats:
Groups: 4
Forums: 23
Topics: 14817
Posts: 208004